Career Change: Construction to Coding
Julian has been working in the tech industry for five years since he graduated from Turing.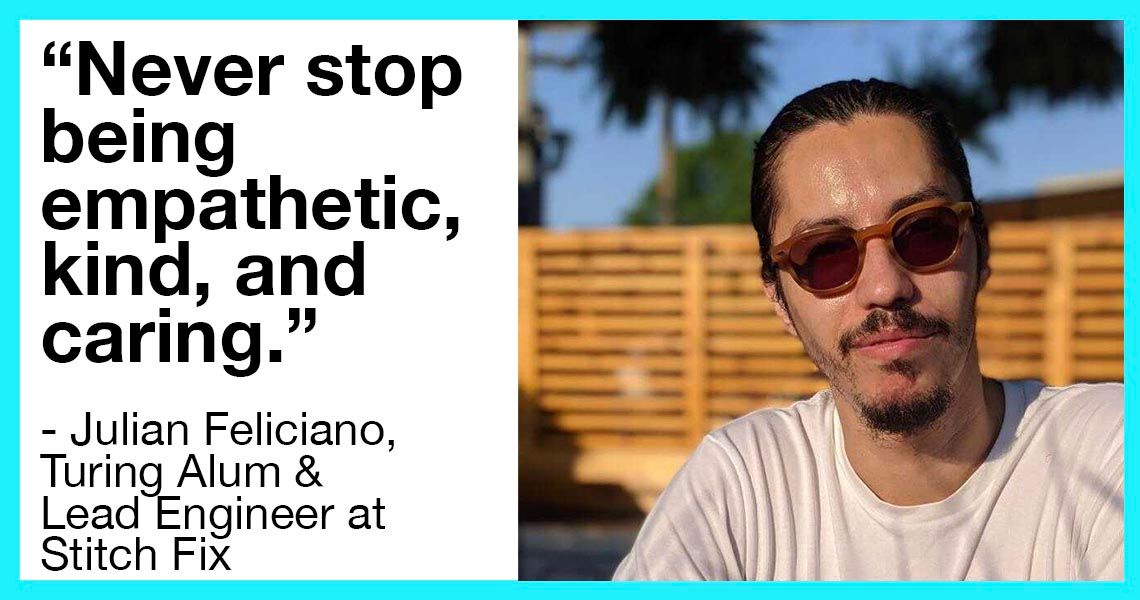 Meet Julian, Turing Alum
• Graduated from Back End program in June 2016
• Hired August 2016
• Now works as a Lead Engineer at Stitch Fix

Growing up Latino on the west side of Chicago, opportunity wasn't often easy to come by for Julian Feliciano. He shares, "Access to good jobs, good education, and opportunity has been and still is a struggle for many where I grew up." His youth informed his time at Turing, an experience he describes as equal parts "exhilarating and exhausting," and he came in knowing the merit of an inclusive environment.
"I'm always one to dig deeper and try to understand what is going on behind the scenes."
Being curious about the how—that's what led Julian to becoming a developer. He first started tinkering with programming on the web as a kid on Myspace. He followed that bent all the way to the present day at Stitch Fix, where he now uses creative thinking to solve problems and work with different functions of the business—technical and non-technical. Accomplishments include the launch of Stitch Fix in the UK and the launch of Fix Preview and Live Styling for Stitch Fix clients.
"Turing grads come equipped with an unmatched set of technical and collaboration skills paired with high level problem-solving abilities."
Julian's been tasked with project planning, designing systems, and collaborating with partners (business, product, design, algorithms) to build out features. He continually asks, "How do you shorten the feedback cycle between all the various functions of a business once you are no longer a small company?" Julian is adept at fostering an open dialogue between partners to develop solutions and then breaking down that work into digestible pieces. While this is a skill perfected in the wild, it's one he sharpened at Turing.
"Never stop being empathetic, kind, and caring."
It's a motto he lives by. Julian still does a healthy bit of coding, but his focus has shifted towards mentorship and project guidance for his team. He hopes to continue giving back by encouraging underrepresented groups to join the tech industry and providing inspiration for kids in Chicago who have faced similar challenges as he did in his youth.
Want to find others like Julian who follow their natural curiosity and become leaders?
Meet more of our people on Terminal