Q3 2023 Jobs and Hiring Report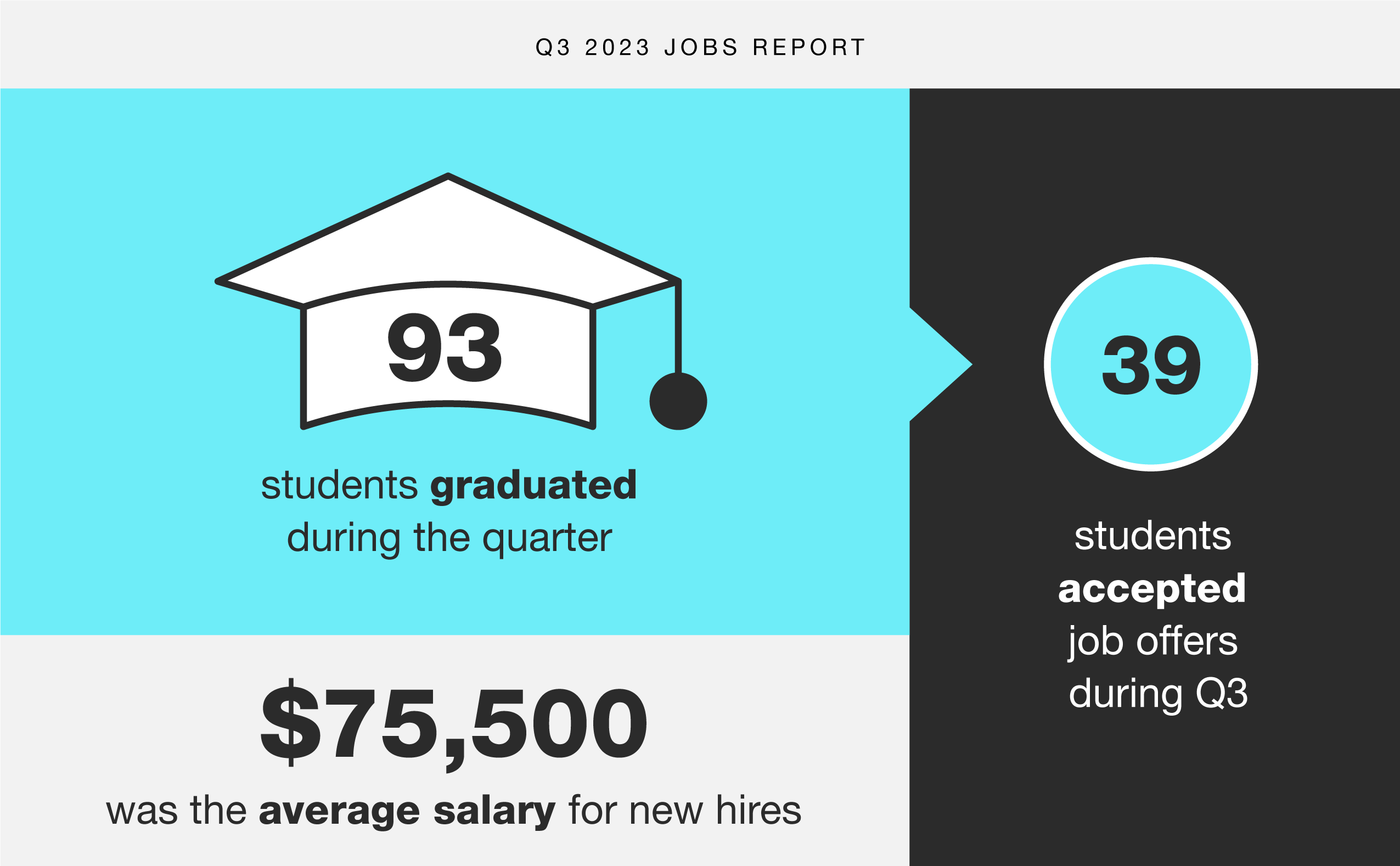 As we get closer to the end of the year, it's a pleasure to share with you the remarkable successes of our students and alumni. At Turing School, we believe that education goes beyond the classroom, and a measure of our impact lies in the professional achievements of our graduates. This year has been one of overcoming challenges and perseverance, as seen by our 2023 jobs and hiring report.
Q3 by the numbers:
• 93 students graduated Turing during this quarter
• 39 students accepted job offers during Q3
• The average salary for new hires was $75,500, a small, but noticeable increase from last quarter
• The median time to hire was 119 days
• Alumni rated their job search satisfaction at 4.4 out of 5
Read our Full Q3 2023 Jobs and Hiring Report here.
Success Stories:
Empowering Careers, Changing Lives
Behind every statistic in the Q3 report lies a success story. From career changers breaking into the tech industry to seasoned professionals, Turing School is the launchpad for diverse and impactful careers. Our students are getting jobs and we're excited to celebrate the 39 who accepted roles this quarter.
Course Report, an information hub for coding and tech bootcamps, recently highlighted recent Turing graduate Caroline Peri and her journey from a Back End Program graduate to accepting a Full Stack job. Caroline explains, "It's a competitive tech job market right now and Turing School gave me the skills I needed"
Looking Ahead:
As we celebrate the achievements of Q3 2023, Turing School remains dedicated to providing cutting-edge education, fostering a supportive community, and propelling our graduates into fulfilling careers.
With the breadth and depth of hard and soft skills taught at Turing, along with a little patience and the right outlook about recent evolutions in the tech industry, we're committed to keeping our quarterly outcomes strong. More importantly for our organization, we're also committed to continuing to publish them here, on our blog. Subscribe to be notified each time one drops!

Getting ready for your own job search in the tech sector? Check out these additional tips and tricks from a Turing alum.
Ready to start your journey to becoming a software developer? Attend a Try Turing event, today!