Being a Black Veteran in Tech
A Turing front-end all-star shares his experience.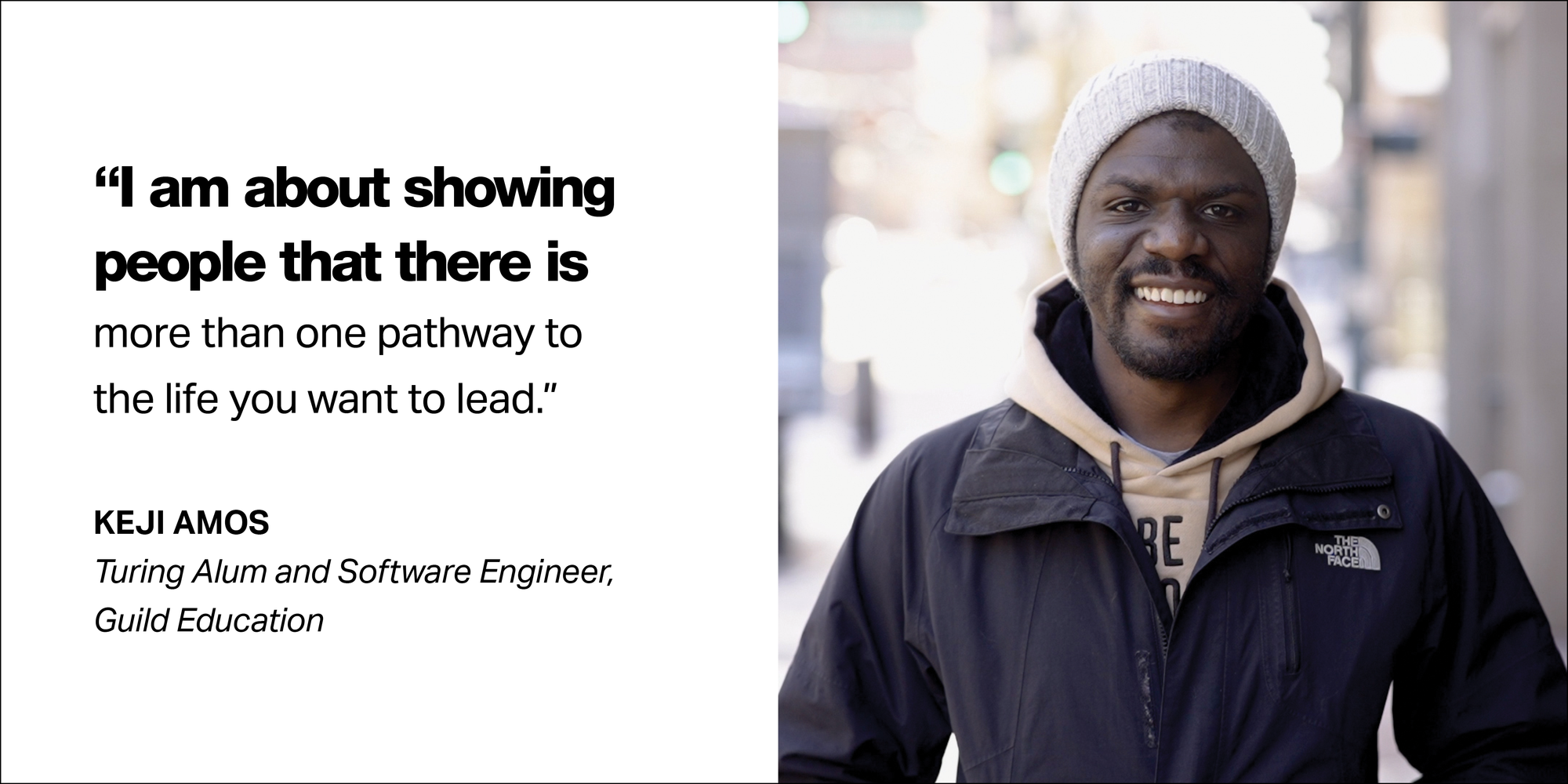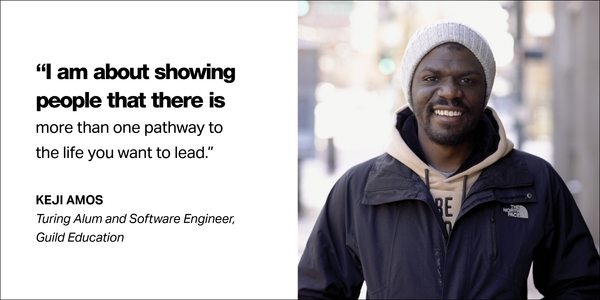 From childhood, Keji Amos displayed a love of tech, always tinkering with his dad and building things. But he didn't ultimately pursue a degree in computer science because he didn't see himself represented in that world—he saw only white men wearing khakis. After going in the direction of IT and later, the military (to pay for it), Keji landed in education. His cumulative experience and an unquieted interest in coding drew him to Turing, where he completed the Front End program in 2017.
On being Black in tech:
"You deserve to be here. I am about showing people that there is more than one pathway to the life you want to lead."
Keji brings an arsenal of past life experience—personal and professional—that proves this point. "I know what leadership looks like," he says of his time in the Army National Guard. Afterwards, he worked in Denver Public Schools at a primarily Latino charter school in a Southwest Denver campus, where he saw first-hand the struggles that low-income students face. "It really opened my eyes to some startling inequities," he reflects.      
Interested in trying your hand at coding? Check out an upcoming Try Coding Workshop.


Things have come full circle for Keji. Now working as a Software Engineer at Guild Education, just named as one of LinkedIn's Top 50 Startups, he is part of a diverse team working to connect employers with high-value learning providers to create more equitable education options.
On why he chose Front End at Turing:
"I want to dispel a myth in Front End that it's only rendering. There are many complexities and intricacies involved with setting up infrastructure and creating experiences for people."
Keji really digs the "mental gymnastics and brain stimulation" of this work. Though he is now a full-stack developer (having learned the back end side of things out in the wild), he puts his Front End Turing training to direct use at Guild, creating a digitized marketplace for clients to easily access available courses and institutions.
On what's next:
"I want to always be working to create opportunity."
Keji intends to remain focused on increasing education for all. And—on seeing more Black faces and those underrepresented in tech, he aspires to actively serve as a spokesperson, calling upon employers to engage in DEI initiatives. A self-proclaimed "rabble rouser," Keji doesn't hesitate to speak up if there is something he doesn't agree with. "That's often hard for minorities to do," he says, "But engaging in disruptive discourse when needed is part of enacting real change."
Want to build a diverse and inclusive tech team? Find all-star Turing talent like Keji on Terminal.