Cydnee Owens Learned A Lot From Her Turing Journey—and She's Ready to Share
Turing graduate Cydnee Owens shares how her experience in the back end development program helped her pivot her career and make life-long friends.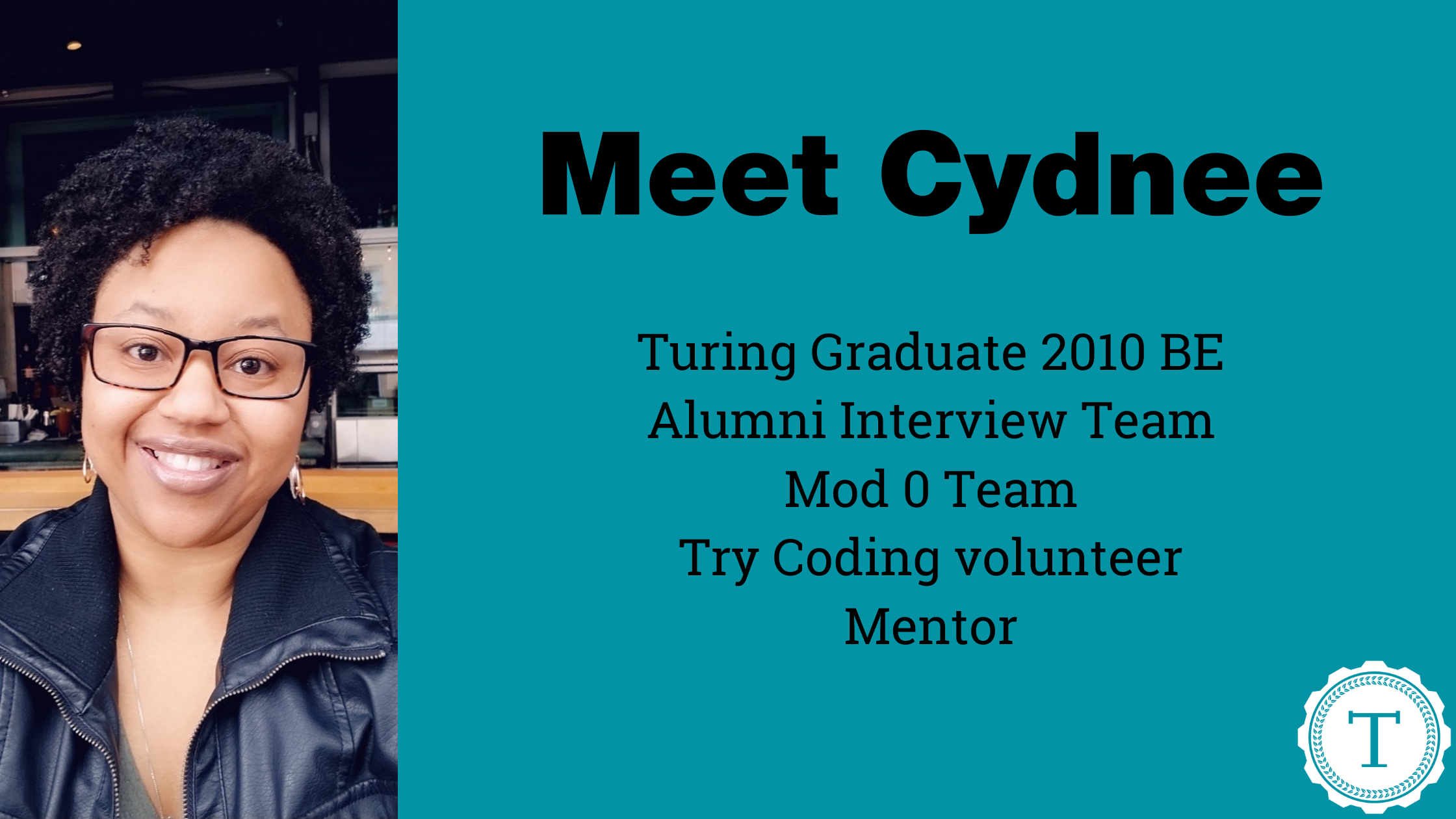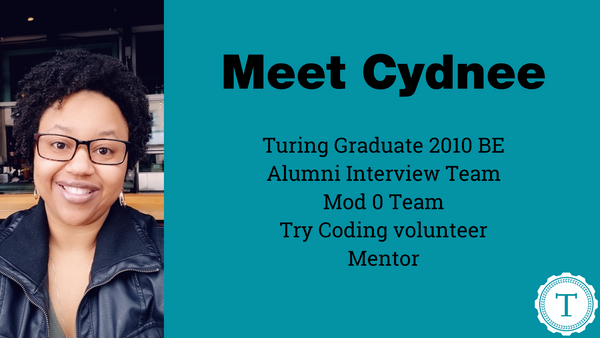 Most members of the Turing community know the road less traveled. Simply by virtue of leaving other career tracks or courses of study to pursue front end or back end programming, and by joining the tech sector as members of marginalized communities, many Turing graduates have charted their own course. But some Turing alumni have especially unique trajectories, even within an already diverse collective of code students and professional developers. Cydnee Owens is one such Turing grad.
Cydnee's name will be familiar to the Try Coding students with whom she's volunteered, as well as the prospective students she's interviewed and the Mod 0 students that she's served as an instructor for. Cydnee is also familiar to members of multiple cohorts at Turing because she has been part of two different classes.
While she started as a member of the 2010BE cohort, Cydnee was offered a job while completing Mod 3 by an employer who allowed her to return for Mod 4 and complete her back end degree while working.
That professional opportunity wasn't Cydnee's first time working in tech, however. When she joined Turing, she'd already had a decade of experience in project management.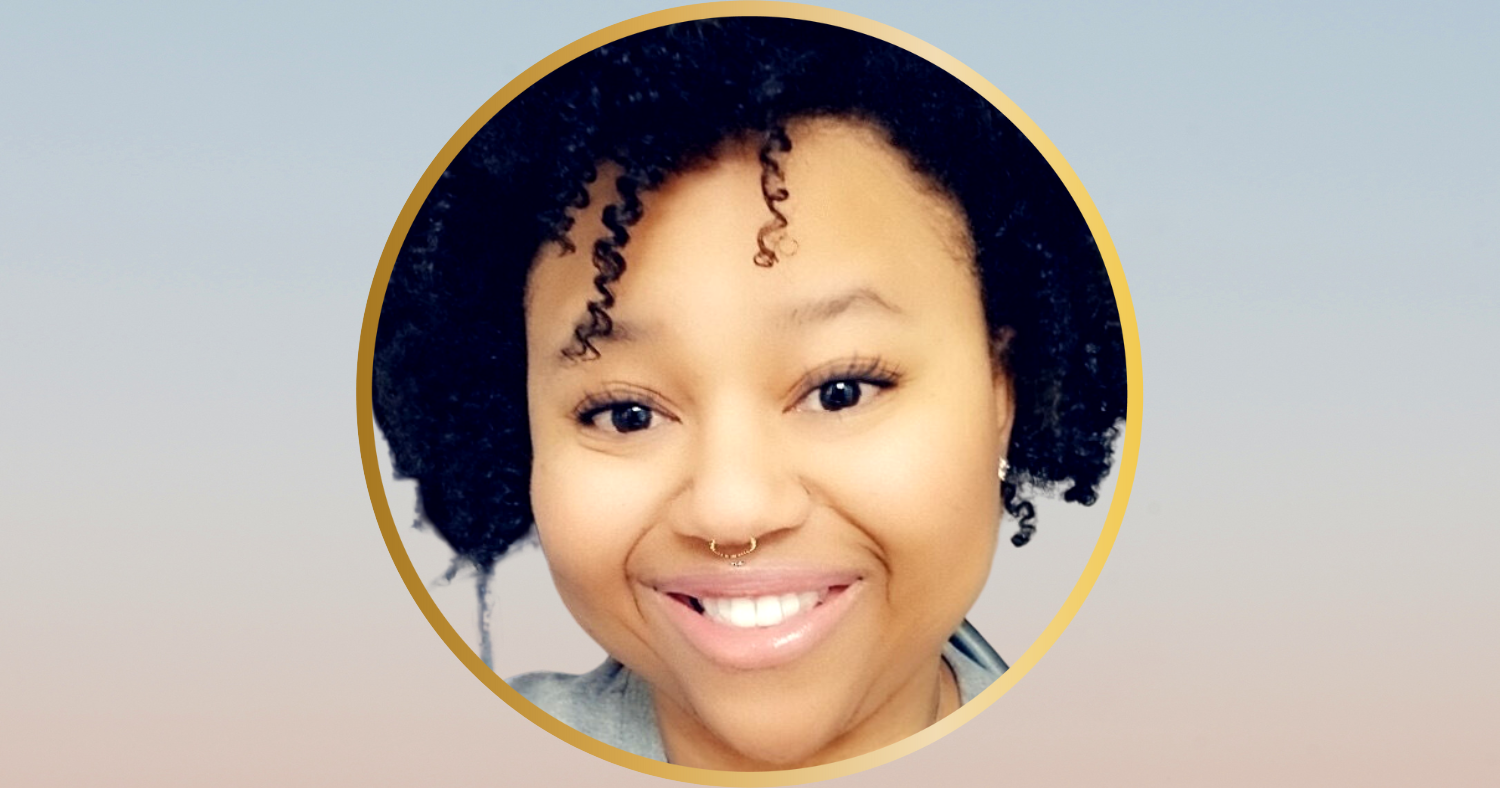 "I was tired of watching the devs walk out at 2 p.m., and I was still sitting there at eight. I made good money, but devs easily topped my salary by $100,000, " said Cydnee.
A colleague of Cydnee's had a daughter enrolled at Turing and knew about our Try Coding workshops. He helped arrange for Cydnee to attend a Try Coding session in the old Turing basement. The rest, she says, is history. Before she even completed the curriculum, Cydnee had worked hard enough to develop the skills she needed to get a job offer.
"I really took advantage of professional development while I was at Turing," said Cydnee. "I know how much it costs to hire a professional coach, so I really appreciated having Tracey and Ryan look over job applications and offers with me. I also had a very strong mentor who went above and beyond —it helped me come out of the program in a technically strong place."
Her positive experience with Turing's supportive community inspired her to stay involved and engaged after graduation as a part-time staff member, admissions interviewer and contributor to the Code with Mezcla and Code with Joan identity-based Try Coding events.
Cydnee's number one piece of advice for prospective or current students?
"Slow down and pace yourself," she says. "Professional development is really important, but it isn't as important in Mod 1. Pace yourself and understand your priorities. Don't worry about getting a job before you know how to program. Trust the process."
Equally important? Leaning on others for support. Cydnee was in the midst of her studies at Turing—already a significant challenge—when the COVID-19 pandemic and George Floyd protests swept the country. It was impossible for those real-world events not to affect the Turing community. But Cydnee says she made genuine friendships at Turing that helped her during these times.
"The people are amazing, and the connections I made I wouldn't trade for the world," said Cydnee. Today, she and her accountability buddy from Turing are on the same team at the company where they both work. Her mentor from Turing remains one of her best friends. And the classmates she befriended while at Turing have stayed in touch, even as they've moved to different cities and states.
As for any prospective student on the fence about whether coding—and Turing—are right for them, Cydnee advises being honest with yourself. Will coding credentials help you be fully present and build the life you want to live?
"When I'm old and look back on my life, I want to have lived," says Cydnee. "I don't want any regrets. You miss so much of your life trying to climb the ladder."
Ready to start your journey in programming? Sign up for a Try Coding workshop—or join the Turing cohort that starts in May. Want to learn more about how we're working to increase diversity and accessibility in tech? We have more information on our blog.