From Energy Engineer to Software Engineer
Meet Diversity Scholarship Recipient Josh Mallery.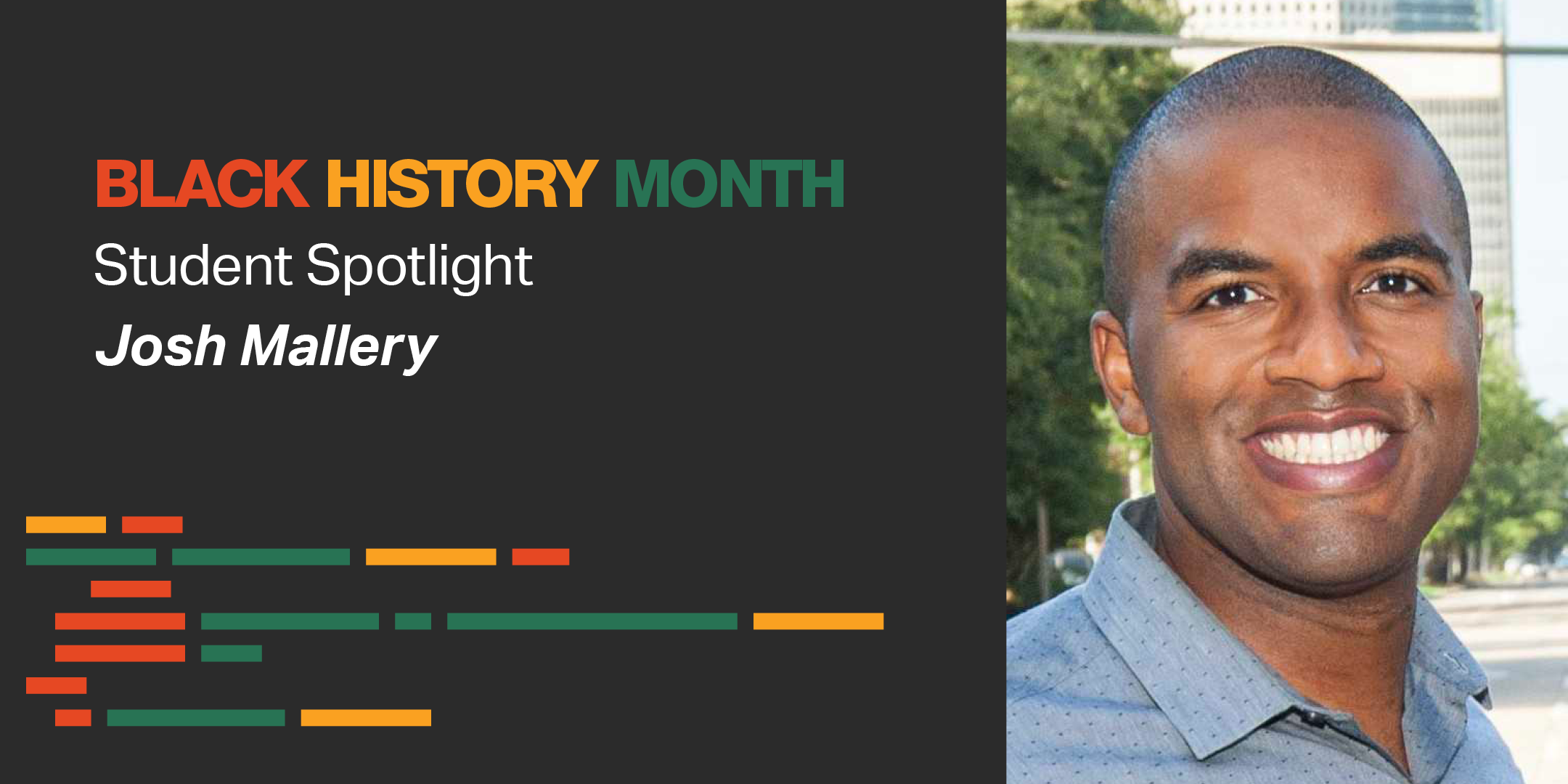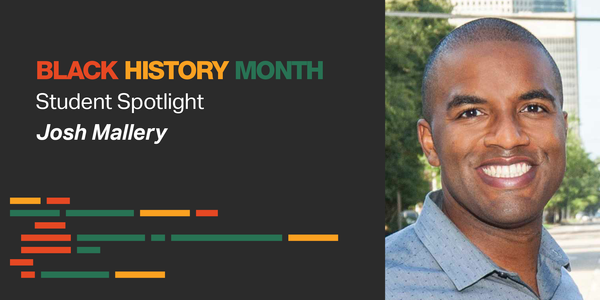 We're kicking off our Black History Month spotlight series by introducing a new member of our community, Diversity Scholarship recipient Josh Mallery. This $4,000 scholarship is awarded to two students every incoming cohort.
Enthusiastic. That's how Josh is feeling at this exact moment having just started the front end program at Turing. It's in contrast to how deflated he was feeling as a petroleum engineer working in the energy industry, with the industry contracting in size and the future appearing less and less bright. Like so many of our students, Josh found himself at a crossroads in his career and made the decision to switch to a more promising future in software development.  
On why he chose Turing:
"I really liked the length of the program (other schools were half the time). I also liked that Turing is a nonprofit and that there is structured time in the curriculum dedicated to educating students on the inequality that exists in the world and in tech."
Josh knew this was the place to come curious. And he always has been. As a kid, he remembers wanting to know how things worked…taking things apart and putting them back together. Piece by piece. He still enjoys puzzles (especially puzzle rooms) and admittedly, never lost his love of legos.

---
Coding is the perfect career for anyone with a technical mindset and innate love of problem solving. Interested?

Check out an upcoming Try Coding Workshop.
---

Turing offers the value-add of a mission-based approach actively working toward a more diverse and inclusive tech workforce. This is particularly important to Josh, because while he never felt that he didn't belong, he frequently felt alone as the only Black person in technical roles at the companies he worked at.
On being Black in engineering:
"I've been forced to be a very perceptive and aware individual in order to protect my image. I never wanted anyone to think I fit their 'stereotype' of what a Black person was."
There have only been a handful of Black people in most of Josh's office environments. As an engineer, the statistics were even lower specific to the groups of people he worked with. He's always felt a double standard. The unspoken truth is, "Being good isn't good enough if you are Black. You have to be the absolute best version of yourself every single day. Other people have preconceived ideas about Black people and if you're not perfect, you can fall prey to their (incorrect) belief system and give them the confirmation bias they were looking for all along."
So it has not been an easy path. But this constant calibration has given Josh a keen ability to calmly handle situations and resolve problems. And he's excelled every step of the way, despite facing mounting pressure. Fortunately, Turing is a safe space to openly discuss how and what we can do better as humans and as an industry to help Josh and other Black people not be subject to such incessant scrutiny.
On what inspires him:
"When I think about what I want to bring to the world via software development, what motivates and inspires me the most is the idea of making people's lives easier and more fulfilling."
Josh is interested in creating tools to help people pursue their passions. "To me, there isn't anything greater than giving people the gift of time…time to do the things they love and time to focus on what they enjoy." It's about using the power of technology to automate or optimize manual, tedious work to make more time for what's most important in life. For Josh, that will no doubt be teaching his two-year-old daughter how to build things with legos here soon. Oh, and more time for wrenching on his 1990 mustang—he's already got the engine swapped and transmission rebuilt (we mentioned he's mechanically inclined, right?).

On what's next:
"Learn everyday, never rest on your laurels."
Josh already has an award from NASA (when he worked at Johnson Space Center in Houston) but this rocket man is clearly still on the rise. What he does next remains to be seen…all we know is we can't wait!
---
Thinking of switching careers like Josh?