From Student to Teacher
Meet Associate Instructor Jamison Ordway.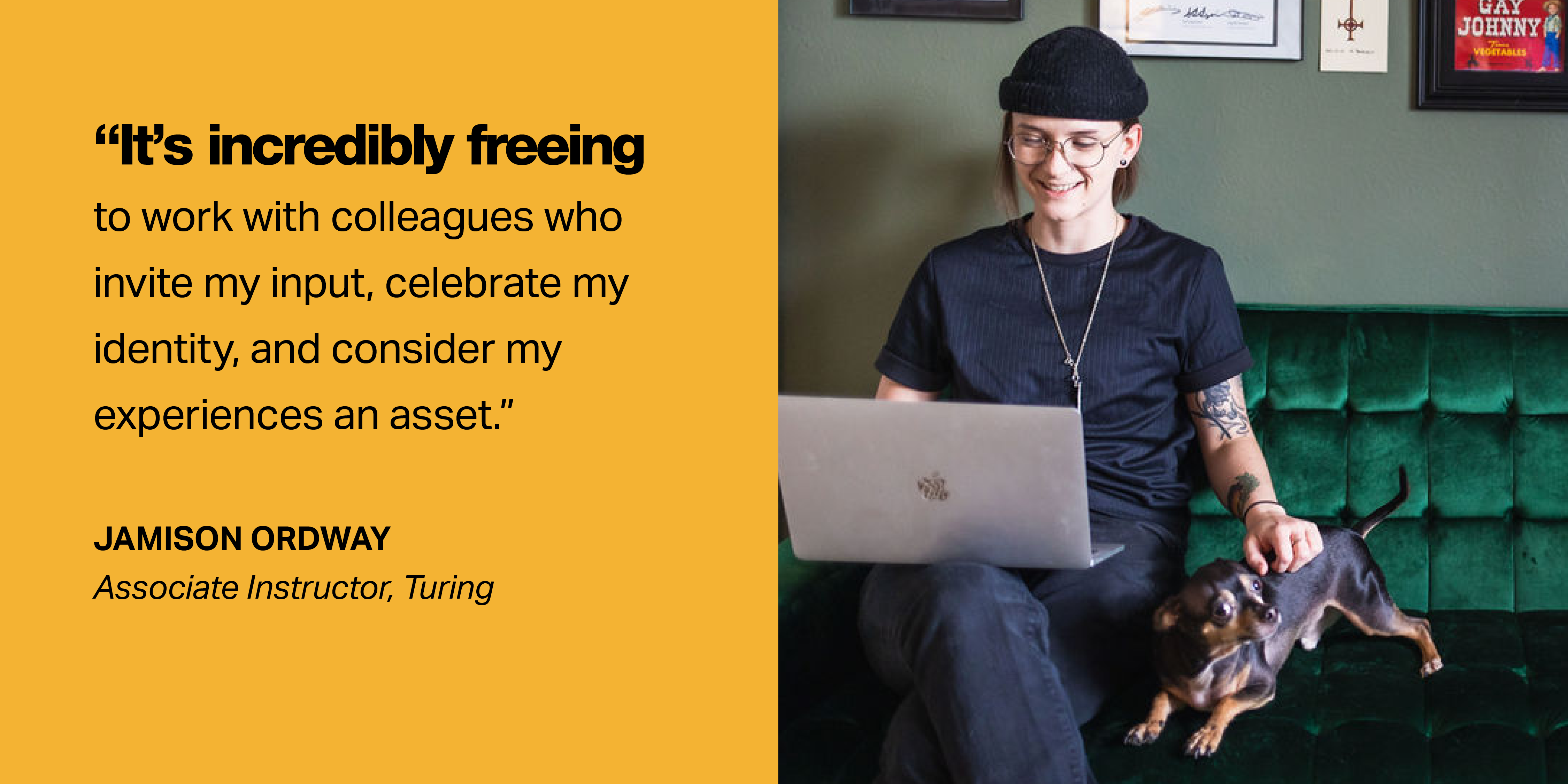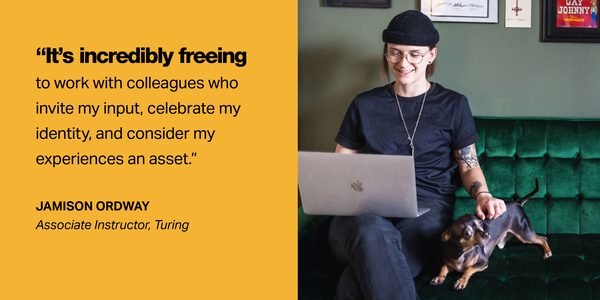 This self-proclaimed "genderqueer 90s kid with ADHD and a growing CD collection" joined the Back End Turing team as a Mod 2 associate instructor last February. What Jamison digs most about their job is: 1) investing their energy into building a more equitable industry and using their skills to help dismantle societal barriers to entering this field, 2) working to improve people's circumstances, and 3) witnessing an upward trajectory of their students' confidence.

The Path

"Since Turing's vision lines up closely with my professional values, I hoped to apply someday."

Seeing that hard-earned confidence climb is all the more meaningful because they've been in their students' shoes, walked this same path, and know how to help someone get unstuck. Initially drawn to Turing on account of its program length, job search support, and overall vision, Jamison is a graduate of the 1803 Back End cohort. They admit they found the program to be incredibly challenging, so teaching definitely felt like a distant goal.

The stars soon aligned. Jamison spent two years as a developer post-Turing learning new tools and frameworks, giving technical talks, and weighing in on product design choices at startups Silvernest and User Interviews. But there was a missing piece: a longing to layer their creative/educational skills from their pre-Turing career (as a private music teacher and youth director) atop of their newer software engineering skills. Staying involved with the Turing community via mentoring and volunteering was key. "I think this ongoing relationship helped me identify connections to the real-world experience I was gaining and the instructional values that shape our curriculum," they said.

The Process

"When I'm doing my job well, students are excited to explore new concepts, ask questions, discuss findings amongst themselves, and challenge their understanding of the topic at hand."

Jamison knows firsthand that so much of the learning process comes down to practice and reflection. "A growth mindset is crucial when learning any new skill, but especially for learning something as nebulous and expansive as software development," they said. There's also emphasis on reflection, feedback, and collaboration. Students take on more responsibility and initiative as the program progresses, which prepares them for the challenges of the workplace.

Turing instructors adhere to industry standards and best practices for the technologies they teach. Projects are designed to demonstrate a thorough understanding of relevant, real-world skills. Test driven development is required in most cases. Students must consistently improve their previous work and refactor their projects to be more maintainable. Expectations are high, but it's worth it. "These good habits help students stand out as candidates during their job search, and maybe more importantly, they get to practice thinking empathetically about their code base and how their work would impact teammates as well as users," Jamison says.

The Perks

"There's a lot that goes into a successful inning at Turing, so intermission weeks are a welcome chance to pause and spend quality time in other areas of life."

Intermission weeks (one-week breaks for both teachers and students that punctuate the seven-week program innings) allow added flexibility and time to pursue outside interests. In their non-Turing time, you can usually find Jamison gardening, playing music, reading, playing video games, working out, or doing random arts and crafts.

What's more: teaching at Turing doesn't come at the expense of continued professional development. In fact, instructors have time regularly set aside for it. For Jamison, who teaches mostly Ruby and Ruby on Rails, this has meant exploring Linux administration and working on a project in Rails/JavaScript/React. So they truly have the best of both worlds: the active cultivation of an unorthodox learning environment paired with non-prescriptive time and space to focus on their own personal goals.

The People

"It's incredibly freeing to work with colleagues who invite my input, celebrate my identity, and consider my experiences an asset."

Brilliant. Kind. That's how Jamison describes their peers, continuing, "I have never felt more respected and supported in a professional setting than I do at Turing. We are always learning, growing, reflecting, and becoming better people. We consistently rally around creating the best possible student experience."

Jamison regularly draws inspiration from observing the strategies of other Turing instructors and their thoughtful Twitter threads. They also credit inspo and motivation stemming from "youtube video lectures I can't bring myself to pause, high quality documentation, software that solves a real-world problem, the satisfaction of a fully passing test suite, and stumbling upon questions I don't know the answer to yet. Oh, and coffee." Indeed.
Interested in being part of a place with amazing perks and people? To apply for a position at Turing, click here.
Recently named #18 on 100 Best Places to Work, #4 on 50 Best Small Places to Work, and #13 on 50 Companies with the Best Benefits by Built In Colorado
Interested in attending a school where you can be yourself, ask questions, and take risks?
Contact Admissions Counselor Chelsea Stallings.
Schedule a call with her directly here or send her an email at chelsea@turing.edu