Ibotta Hires from Turing
Here's why your company should, too.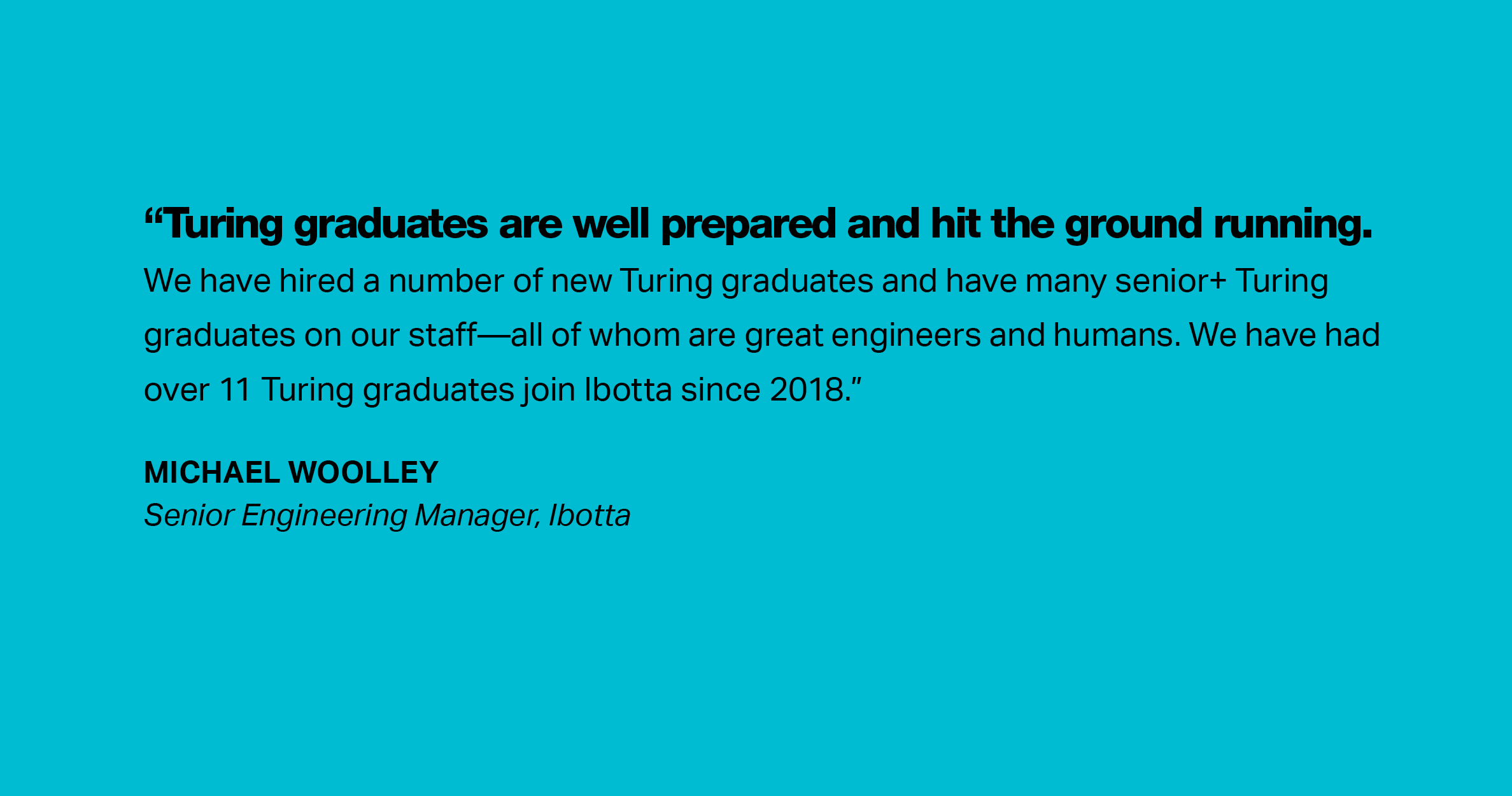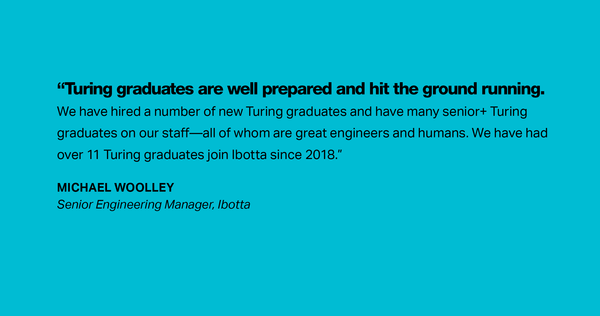 Company: Ibotta
Number of Turing grads hired: 11 since 2018
Ibotta is an app that lets you earn cash back on everyday essentials like groceries, apparel, and more. The ability to dive in and learn independently is essential to early career development in this fast-paced environment. So when Ibotta Senior Engineering Manager Michael Woolley is hiring a junior to mid-level developer, he looks for people who are self-motivated. Candidates have to be able to quickly adopt new tools and concepts, manage their own workload, and integrate feedback from their peers and manager. Turing grads can do all of this seamlessly!
What's more: Ibotta started hiring for fully remote positions in late 2020. Michael agrees that Turing's fully remote training helps strengthen and prepare grads to work this way. And there are built-in benefits for our alums who get hired here as well. Ruthie Rabinovitch, a graduate of Turing's first fully remote cohort who now works at Ibotta as an Associate Platform Engineer, says, "There's an incredible support system already in place to share the experience of the transition, talk about the growth trajectory, and better advocate for yourself."
Read on to find out how easy and successful it has been for Ibotta to fulfill hiring demands with top talent from Turing:
What has your experience been like as an employer partner of Turing?
"Great! We have hired a number of new Turing grads and have many senior+ Turing grads on our staff—all of whom are great engineers and humans."
Was it easy to hire from Turing? Can you describe the process?
"Yes, it was very easy. Turing candidates are typically well prepared and able to speak openly about their experience."
Can you speak to the quality of the hires from Turing? Are they working out well?
"Yes, recent Turing grads have been a great addition to our staff and typically hit the ground running."
Would you recommend hiring from Turing to other employers?
"Yes! I would definitely recommend hiring from Turing."
Get started now.
Meet our people on Terminal or contact Partnership Manager Robyn Purvin, robyn@turing.edu.