Land Your First Job in Tech
With a lil' luck and a lil' Lex.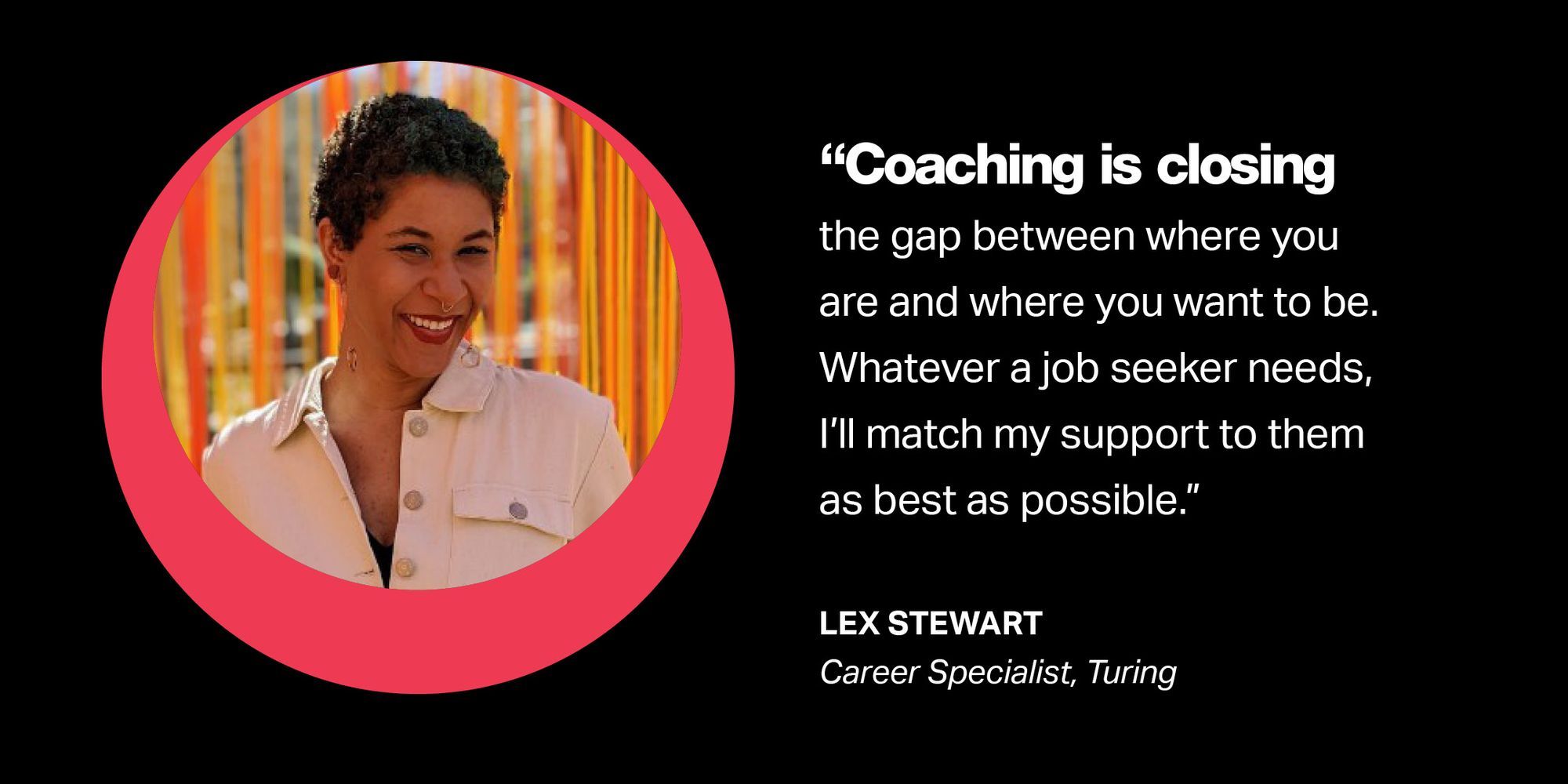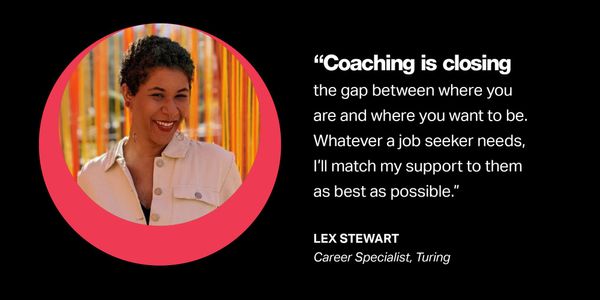 Lex Stewart joined Turing's Career Development Team as a Career Specialist in May 2021. They work with students in the space between just graduating and getting their first job. At Turing, we call this Mod 5. This is a transitional time and often, students need tailored support. Lex is 100% on it.
This work looks different day-to-day. On some, they hold large group meetings where they pull in job seekers for training sessions; on others, they work with smaller groups of 5-7 people at a time on a more specific topic they all have in common. In addition to group work, they regularly host one-to-one coaching sessions with individual job seekers. "Each person typically wants something different. Some people might want a consistent check-in with me bi-weekly. Others might want to pick up sessions as needed. Whatever a job seeker needs, I'll match my support to them as best as possible," they say.
On providing unconditional support:
"The job seeking support provided throughout the Turing program and the one-to-one support thereafter felt like it couldn't possibly be true—there were no 'catches' like added fees or payment plans with stringent contingencies."  
That was actually Lex's first reaction when learning about Turing. Now that they're here every day helping students get what they want most (their first job in tech!) with no strings attached, they know it to be an indisputable truth. During their one-to-ones, they spend time getting to know students to understand what is unique about their personal and professional backgrounds.
One of the things Lex has found is that when people lean into their background, no matter what that is, it enables them to be more successful. They reflect on a student who was a long-term job seeker and came from an athletic background. Concerned that his sports experience wouldn't translate to tech, he was having confidence issues. "One-to-one, we worked on breaking down his transferable skills from sports and athletics. When he secured his first role in tech, it was because he leaned into his background and drove home his accomplishment from them in his interview," they say. Lex helps students to see their previous career experience as an asset, not a hindrance, and works directly with them on how to couch it all.
Here's what one recent Turing alumni had to say:
"Lex is amazing! She did her job flawlessly. She was always available to meet, and she was supportive, understanding, insightful, and technically proficient to help me with any problem I had. My job search was pretty taxing emotionally, and I honestly don't think it would have gone as well if she hadn't helped me navigate it."
---
Interested in attending a school that provides customized job seeking support?

Snag one of the last remaining spots in our summer cohort and start as early as July 5!
Schedule a call with our admissions counselor here or email chelsea@turing.edu

---
On giving it a name:
"Job seeking support for people who are underrepresented in the tech industry starts with just that: stating that it needs to be named. At other jobs, we never named it or asked questions like what are people supposed to do? It was very quiet in the previous spaces I've worked in."
Lex supports students in a myriad of ways, but some ways are more challenging than others. The realm of job searching is biased and not typically set up for people from minoritized backgrounds and identities. "Helping students navigate a process that inherently isn't set up for them can be frustrating. It makes me question the full system: why was it set up in a way that is not accessible for all people? It is so upsetting for me that one job seeker might have a larger lift in the job hunt than another, simply because of who they are and how they exist," they say.  
At Turing, we believe that individuals from all backgrounds must work in tech. Lex's work on our Career Services Team supports this mission. Their work goes beyond "naming" it. Our entire Career Development Team calls out biases and hardships that job seekers may encounter along the way. We prepare them for every reality so they aren't blindsided. Lex shared more about how we do this in two ways.
For people who come from a marginalized identity:
"We dig into what they need to say, and do not need to say, specifically in an interview. For example, sometimes job seekers feel the need to tell everything—their entire life's story—in a job interview, but that isn't necessary. Instead we work on what key things to share and say.

For people who do not come from a marginalized identity:
"We work with people in spaces of privilege to open things up for others. For example, if a student who comes from a space of privilege can share their story about negotiations and starting salary, they can share that dialogue with a job seeker who does not, and help them get equitable pay."
---
Are you currently job searching? Here's what Lex wants you to know:

1. You are capable. This isn't easy, but you have all the tools. You can absolutely do this.

2. You are qualified. Remember—your background holds intrinsic value. Lean into it.

3. You are not alone. Engage in self-care practices, big or small. Go on a walk. Drink a glass of water. Call a friend. Do whatever helps you de-stress and recharge.

---
On building a culture of transparency and collaboration:
"You might feel like it is an impossible task right now. Just know that most people feel this way and they end up getting a job. We will support you to pivot your career and navigate the specifics of the job hunt. We will figure out what you need and make it happen."
Another stark reality that we face head-on is that the job hunt itself can be inherently isolating. To help combat this, Lex recently initiated a project called "Houses," in which seven to nine job seekers are grouped into mini communities in Mod 5. "When you are job seeking, it can often become an anxiety and depression factory. People can get competitive with their peers and become worried about sharing. We created Houses to put people together and reduce the sense of isolation," they say.
And—it's working! Through Houses, they are experiencing some of the highest engagement they've ever seen. Here's what one recent Turing alumni shared:

"Having never interviewed or applied for any tech jobs before, the support from Turing was amazing. Primarily the Houses in Mod 5 helped me the most. Having Lex's and other Mod 5 job seekers' support was super beneficial to me getting a job."
It is absolutely this community-building component and willingness to cultivate equitable practices that sets Turing apart. We are committed to coaching you through the unknown and into that super sweet spot: landing your first job in tech. Lucky you.
---
Want to join a community dedicated to helping you get hired?

It's not too late to sign up for summer! Schedule a call with our admissions counselor here or email chelsea@turing.edu