McKinsey Hires from Turing
Here's why your company should, too.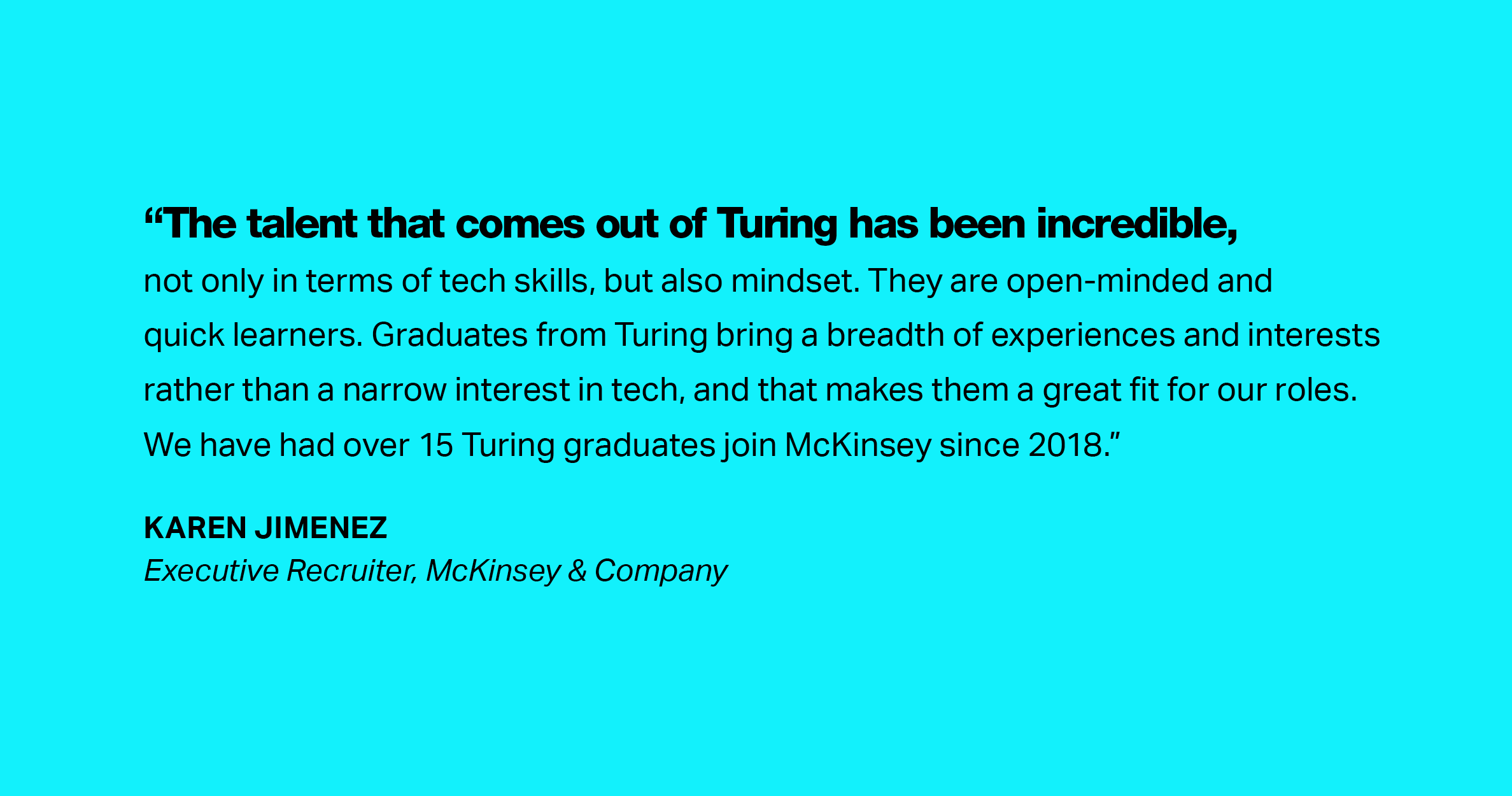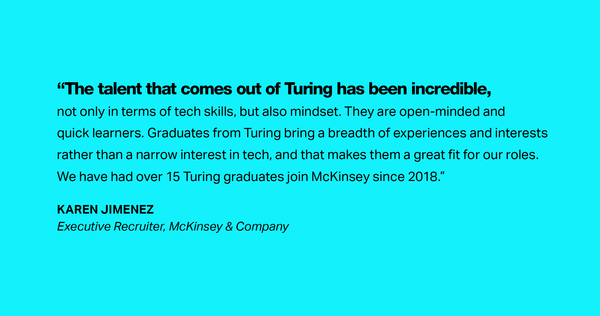 Company: McKinsey & Company
Number of Turing grads hired: 15 since 2018
McKinsey & Company is a global consulting firm focused on helping organizations across the private, public, and social sectors turn ambition into reality by using technology to create sustainable change. Problem solving is the essence of everything McKinsey does. Their software engineers are constantly changing gears—working with new tech, new industries, and new providers. So when McKinsey & Company Executive Recruiter Karen Jimenez is hiring a junior developer, she looks for people who are excited to try different approaches to situations.
Being passionate about learning new things is a must, as is the ability to manage and thrive in ambiguous situations and the desire to work as part of Agile teams. In the technical realm, candidates must have experience with JavaScript, C# or Java; experience with Node.js, React and other frameworks; and experience with relational and non-relational databases. Turing grads come equipped with this experience.
Read on to find out how easy and successful it has been for McKinsey to fulfill hiring demands with top talent from Turing:
What has your experience been like as an employer partner of Turing?

"We've partnered with Turing for 4-5 years now. We have a successful history of hiring from bootcamps, and some of our leaders today were hired from a similar background."
Is it easy to hire from Turing? Can you describe the process?

"It is. We ask Turing for a list of soon-to-be graduates and evaluate whom we should reach out to based on their projects and previous experience. Then they go through the interview process, which consists of a combination of technical and behavioral interviews."
Can you speak to the quality of the hires from Turing? Are they working out well?

"The React skillset they bring is very strong, which makes it easy for them to join client engagements and start building their career at McKinsey."
Would you recommend hiring from Turing to other employers? And why?

"Yes, the overall quality of the talent is a fit and grads remain part of the Turing community, which allows them to grow and learn from each other."
Get started now. Meet our people on Terminal or contact Partnership Manager Robyn Purvin, robyn@turing.edu.