On Shaking It Up
Meet Director of Growth Justina Glasker.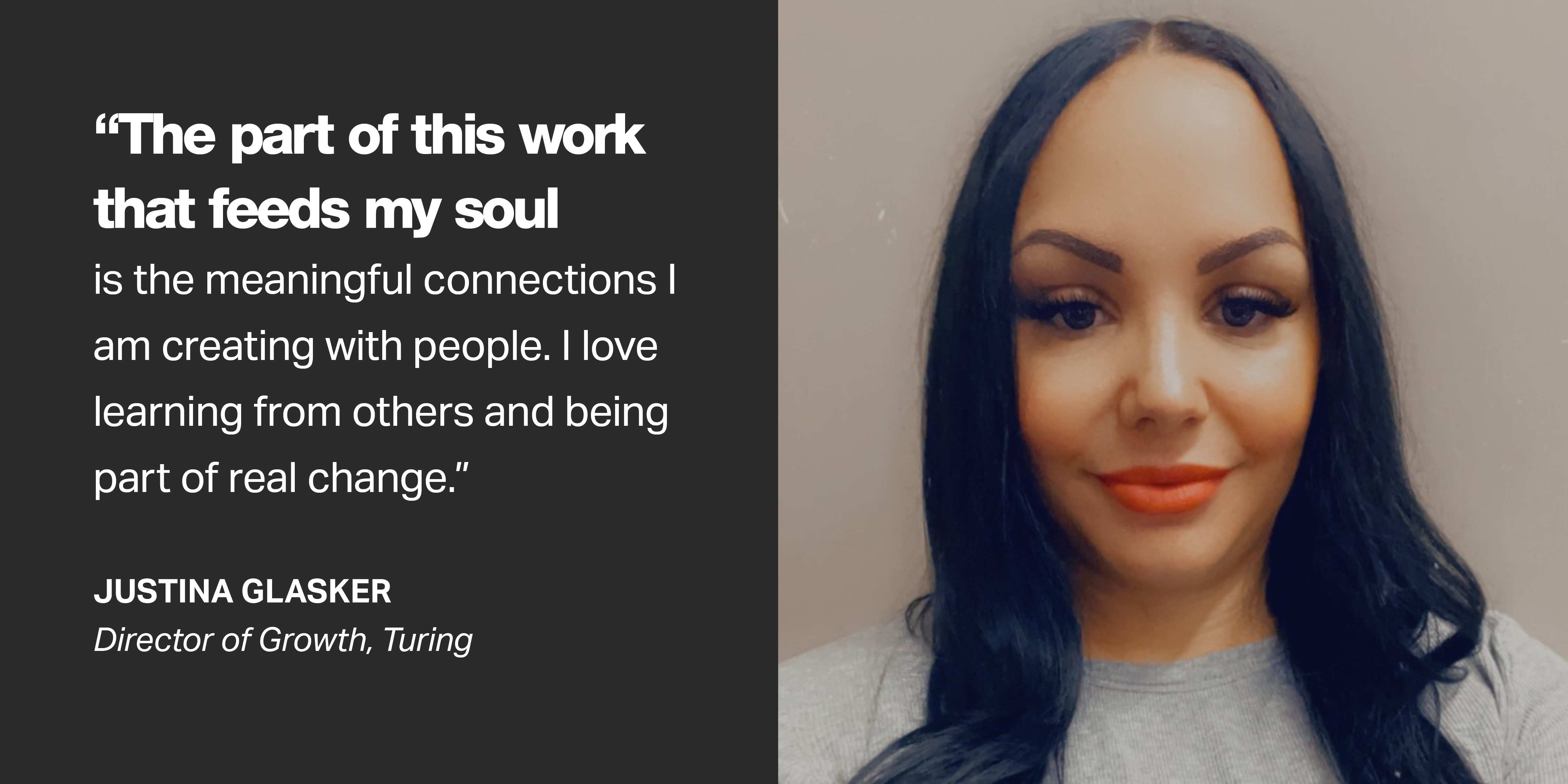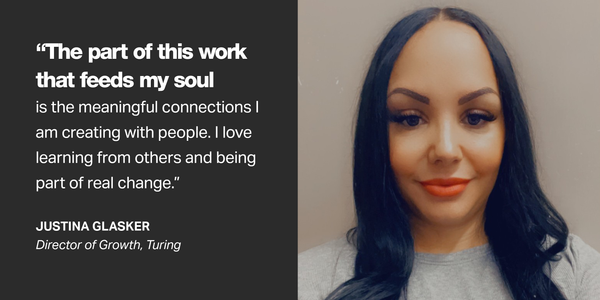 Change is inevitable, growth is optional. It's a mantra Justina Glasker abides by and one that led her to Turing where, in a recently carved out position, she is working alongside her team to drive organic growth initiatives. Personal and professional growth happens to be her passion, which makes her a natural fit in this role. Justina is also passionate about serving others and helping people overcome adversity. "As Fredrick Douglas said, 'If there is no struggle, there is no progress.' I see the greatest light in that message because that is precisely where and how we grow if we choose to accept and endure the challenge," she says.

On what scares her:

"I am a person who naturally welcomes change…actually, I seek it! If I am not doing things that scare me in a healthy way, I am not growing."

Nothing scares Justina more than stagnation. This is evidenced by her 12-year history working in higher education across a range of evolving roles at different academic institutions. She worked for a college in Oakland, CA, as the Director of Student Services and championed underrepresented students who faced racial, economic, and socio economic hardships. At DeVry University, she supported startup campuses in Salt Lake City, UT. In Cincinnati, OH, she led two campuses that were experiencing racial turmoil and acted as a thought leader serving military populations. During her tenure at Strayer University as a Sr Regional Dean, her role was client advocacy. There she helped the employees of big corporations like Verizon and Best Buy utilize their tuition benefit and achieve upward mobility through an educational partnership program.

On making an impact:

"I want to make an authentic and genuine impact on my team that inspires them to move, shake, change, learn, un-learn, and grow. I am compassionately committed to bringing that to life in every way."

Justina begins with the end in mind and takes a proactive approach to managing business operations to ensure Turing is experiencing positive growth. "I have an amazing team who is highly collaborative as we work full speed to bring structure, innovation, and efficiency to our processes," she continues. "Our current team goals are to support incoming students, market Turing on a national level, and grow and diversify our student population." Specifically, the Recruitment, Admissions and Enrollment (RAE) team she oversees is working on large-scale initiatives like automation and data collection, which will support higher levels of productivity, free up time to focus on long-term projects, and identify what markets should be targeted in order to execute growth strategies.

On why it matters:

"The part of this work that feeds my soul is the meaningful connections I am creating with people. I love learning from others and being part of real change."  

And she always has. Justina's PhD dissertation topic was on female-to-female mentorship in higher education, specifically women of color, because of her belief in the power of mentorship and knowledge sharing. She credits an earlier mentor at DeVry with gleaning the organizational knowledge and emotional intelligence to continue evolving and in shaping her leadership style as both servant and change agent. At Turing, she hopes to influence the activation of people's voices to better serve our mission. She is eager to be an active writer in the next chapter of Turing by tapping into DEI initiatives as well as engaging LGBTQ+ communities.

On what motivates her:

"My grandmother ingrained so much in me, from the color of my skin to the history of my ancestors—to never forget where I come from as a bi-racial Black woman. I live each day passing down the same lessons to my daughter and my son, who motivate me the most."

Grit. Resilience. Loyalty. Trust. Candor. Strength. All of these values were instilled in Justina by her grandma, who lovingly raised her and taught her how to stand in her truth. Her children are "her why and her whole world." Justina has a spiritual bent and loves to meditate. She makes mental health a top priority (for herself and her team). "It is important to me to stay grounded and centered," she says. This pescatarian-with-the-occasional-cheat-for-chicken also regularly indulges in CrossFit, hot yoga, and playtime with dogs Remi and Maui. She feeds off good conversation, good energy, and Oprah. Oh—and she's a Certified Life Coach. Makes total sense.
---
Want to be part of an organization committed to strong leadership that best serves students' needs?

To apply for a position at Turing, click here.
Recently named #18 on 100 Best Places to Work, #4 on 50 Best Small Places to Work, and #13 on 50 Companies with the Best Benefits by Built In Colorado