Meet the Try Coding Instructor
"What I love about coding is building something behind the scenes, using tools of the future, and everyone else gets to see and use the end result."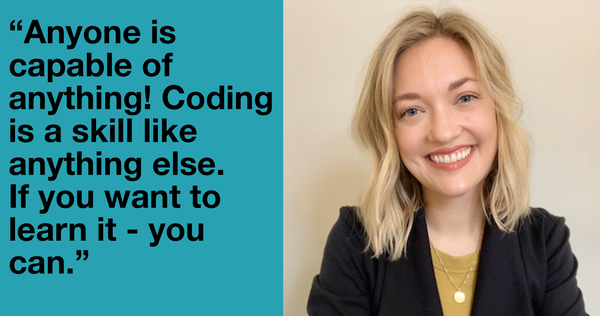 Turing School's Onboarding Instructor, Kaitlyn Van Gorkom, did not originally go to school to become a software developer. After primarily teaching middle school math for 9 years, she wanted a new career with more flexibility in her daily schedule.
"I was looking for a career where I could continue to learn and grow forever. With teaching, I felt like I had reached a ceiling. I didn't want to be an administrator, and once I was a lead teacher and felt confident in my content area, I began looking for a career where there was continued learning and I would never get bored."
While looking for new career opportunities, Kaitlyn considered her strengths. She had always enjoyed problem solving and logic, working with other people and building projects on a team with others. Through her job as a teacher, she got the chance to join Kode with Klossy as a summer instructor. Here, she was introduced to coding and began to see it as a potential career option. She took the leap and decided to officially learn how to code.
After graduating from a coding bootcamp, Kaitlyn began looking for opportunities where she could blend her previous work experience as a teacher with her newfound passion for coding. She joined Turing School as an Onboarding Instructor. Here, she teaches Turing's Try Coding workshops, writes curriculum, and leads special events like Code with Joan, a Try Coding Workshop by and for Women+.
Code with Joan is an upcoming event, where individuals who identify as an underrepresented gender in tech will have a safe space to learn code and participate in group events as true beginners. Kaitlyn wrote the curriculum for Code with Joan and is looking forward to empowering participants and igniting their curiosity about code in a women+ only environment.
"At Kode with Klossy, being in a non-male space with students was the first time I allowed myself to pursue coding as a career option because my students took it on with such courage and weren't judged for anything they created. If they wanted to create a website about sustainable fashion, they did it in a safe environment. I want to provide this same opportunity for women at Code with Joan and give them a space where they can take risks and feel like they belong."
Kaitlyn believes that anyone can learn how to code and is passionate about teaching others to do so.
"Anyone is capable of anything! Coding is a skill like anything else. If you want to learn it - you can. It is a matter of practice. It helps to enjoy details and problem solving. What's great about coding is that you can play around with it in a low stakes environment, especially at events like Turing's Try Coding Workshops."
Kaitlyn also feels strongly that anyone who wants to code and identifies as an underrepresented gender in tech should attend Code with Joan. It doesn't matter if you are a true beginner or aren't sure if this is a career option for you. She encourages you to attend, try it out for yourself, and see if you like it or not. She loves helping people uncover their own potential that they might have overlooked.
"We've been shown in media that a coder is a certain type of person. If you aren't that person, you might get the idea you don't belong in that space because you aren't a computer whiz or don't love math and science. No matter who you are, those things have no bearing on whether or not you can solve problems."
Outside of coding, Kaitlyn enjoys traveling and being able to work remote as a software developer. She grew up in Austin, learned to code in Nashville and will be spending the month of November living in and working from Mexico City. She enjoys that her job allows her to live and work from anywhere with internet access.
"There are more opportunities to work remotely since the COVID-19 pandemic. More and more companies are allowing remote work, it really just depends on the organization you work for. If you want a remote job, you can find it in tech."