On Making an Impact
Meet Instructor Richard Tillies.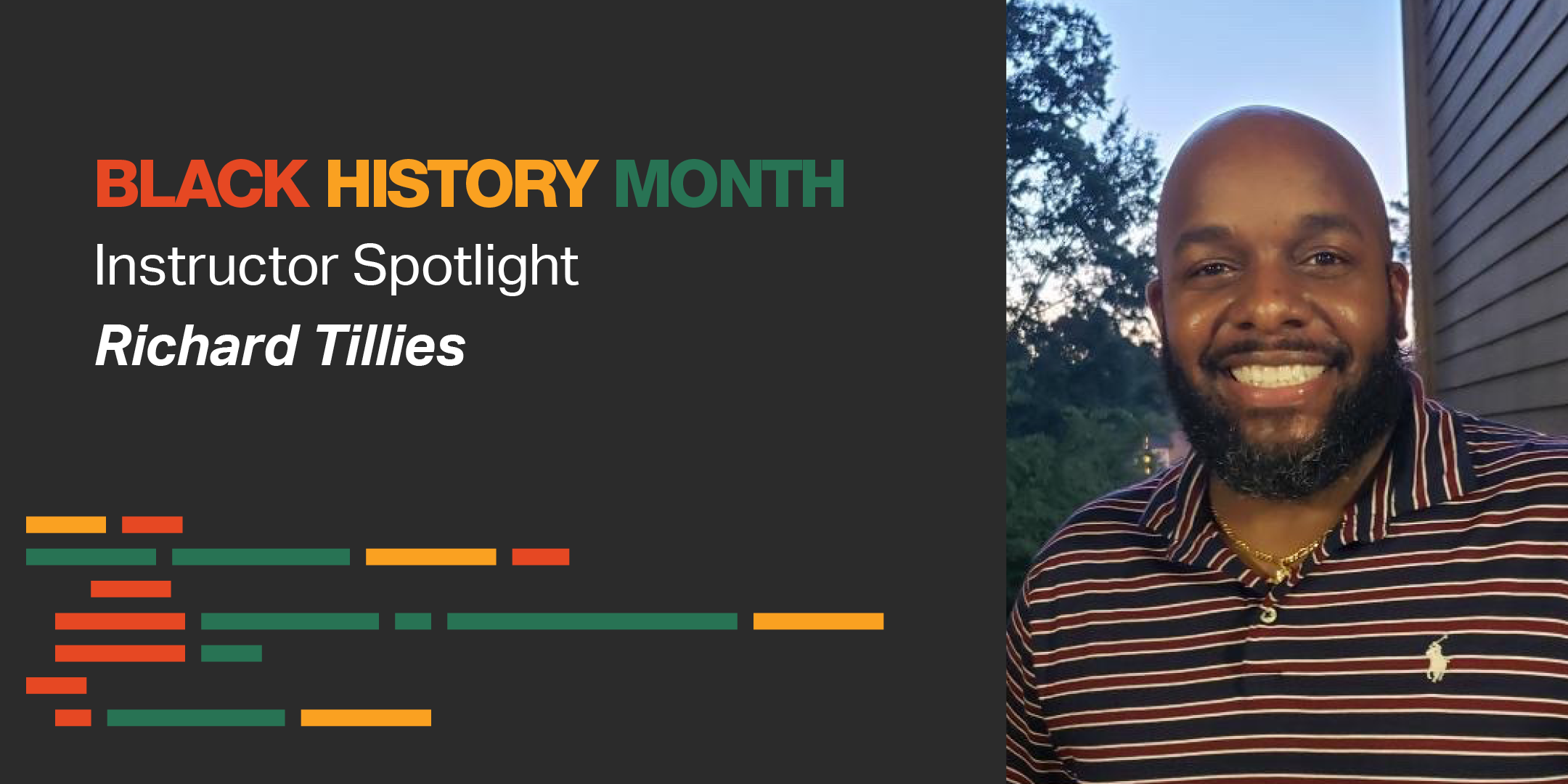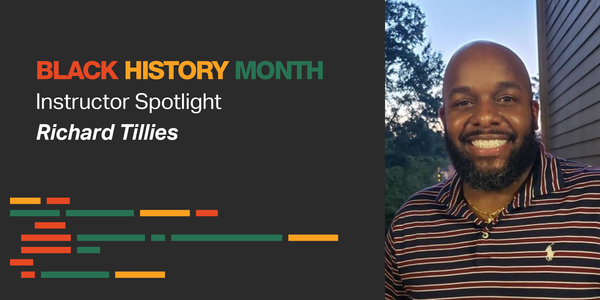 This week, we sat down with Richard Tillies, who joined the back end Turing team as a Mod 1 instructor last October, to talk race, representation, and kickboxing.
Barack Obama. Martin Luther King. Malcolm X. These are some of the big name, widely celebrated people who Richard says have "paved the way for people who look like me." But he also draws a tremendous amount of inspiration from two lesser known figures: Carolyn and Richard Tillies, his parents. While neither of them are traditional college graduates (i.e., college right out of high school), they showed him the value of hard work and perseverance. These attributes have driven what he now wants to show the world.
"I want to show all people that we bring value to the industry as developers, as educators, as thought leaders, and as executives.

Equally important, I want to show people who look like me and share similar life experiences that there are no limits to our abilities in this space."
Richard continues, "We should not be relegated to only the lowest levels of tech because 'people like us' have limitations placed upon us by an authority figure (teacher, guidance counselor, etc.), our environment (inner city, under-resourced school district, etc.), or family history (no college graduates, K-12 dropouts, etc.)."
We celebrate the contributions of Black coders and tech orgs working to diversify and move our industry forward. Here are some that Richard follows and is inspired by:
Black Girls CODE
, a not-for-profit organization that focuses on providing technology education for African-American girls.
Black Boys Code
, a Canadian-based organization (with one chapter in the U.S.) dedicated to introducing young boys of color to computer science through coding workshops and other programs.
Black Data Processing Associates (BDPA)
, an American non-profit organization that serves the professional well-being of African Americans and other minorities working within technology.

Representation matters.
"Having instructors and mentors who look like you and share your life experiences is motivation far beyond money or prestige," Richard says. "As an aspiring computer scientist, without this, there's a good chance that I wouldn't be in the position I'm in now. So it's my life's work to pay it forward, to make sure that the next generation has this same opportunity."
Richard started his career as a software engineer for a large defense contractor, and then worked as a  database specialist for his alma mater. Between those positions, he started as an adjunct instructor teaching algebra and Microsoft Office. He never looked back. Now some 20 years later, he is firmly rooted in his teaching career. And teaching at Turing is an entirely new challenge—very different from teaching at a 2-year or 4-year degree-granting institution. "Beyond that, Turing seems to be much more like a family. In both culture and compensation, I feel valued," he says.
"The most fulfilling part of my job is watching students have that 'aha moment' when a new concept clicks for them. I love taking students from zero to building something they had no idea they could do months ago, weeks ago, even days ago. Teaching a set of new skills to a captive audience at a rapid pace for six weeks at a time is a GRIND!" But helping people accelerate quickly comes naturally to Richard—prior to the pandemic, he even owned a kickboxing studio for five years, teaching clients and trainers martial arts through fitness.  
Speaking of the fast track, he notes that graduates of Turing's accredited program can get a fulfilling, well-paying job in less than a year, whereas a traditional computer science student (like himself) would take four years to get to the same point.
---
---

There's no right or wrong, just different entry points. In terms of curriculum, "On the back end, we teach Ruby on Rails (RoR), a popular and proven framework in the industry. Of course, not every open position is for a RoR developer, but we also teach transferable skills that allow graduates to quickly learn other languages and technologies (e.g., Python, Django, Java)," he says.
Motivated by success.  

For an educator, success is often defined by the number of lives touched or impacted by their work. Richard reflects, "In nearly 20 years, I've taught thousands of students and watched many of them graduate with a degree, get that promotion, or transition into a more fulfilling career. That's rewarding."
In his non-Turing time and over intermission weeks, you'll find him still teaching at a local college in Durham, NC; writing curriculum for a startup based in Boston; and solving his Rubik's cube on repeat. Oh, and kickboxing whenever he can pull myself away from his computer. But be warned—he packs quite a punch.
---
Want to work where you can bring your whole self and be celebrated for it?

To apply for a position at Turing, click here.
Recently named #18 on 100 Best Places to Work, #4 on 50 Best Small Places to Work, and #13 on 50 Companies with the Best Benefits by Built In Colorado