Purpose and Plausibility
Turing's most recent demo comp delivers both.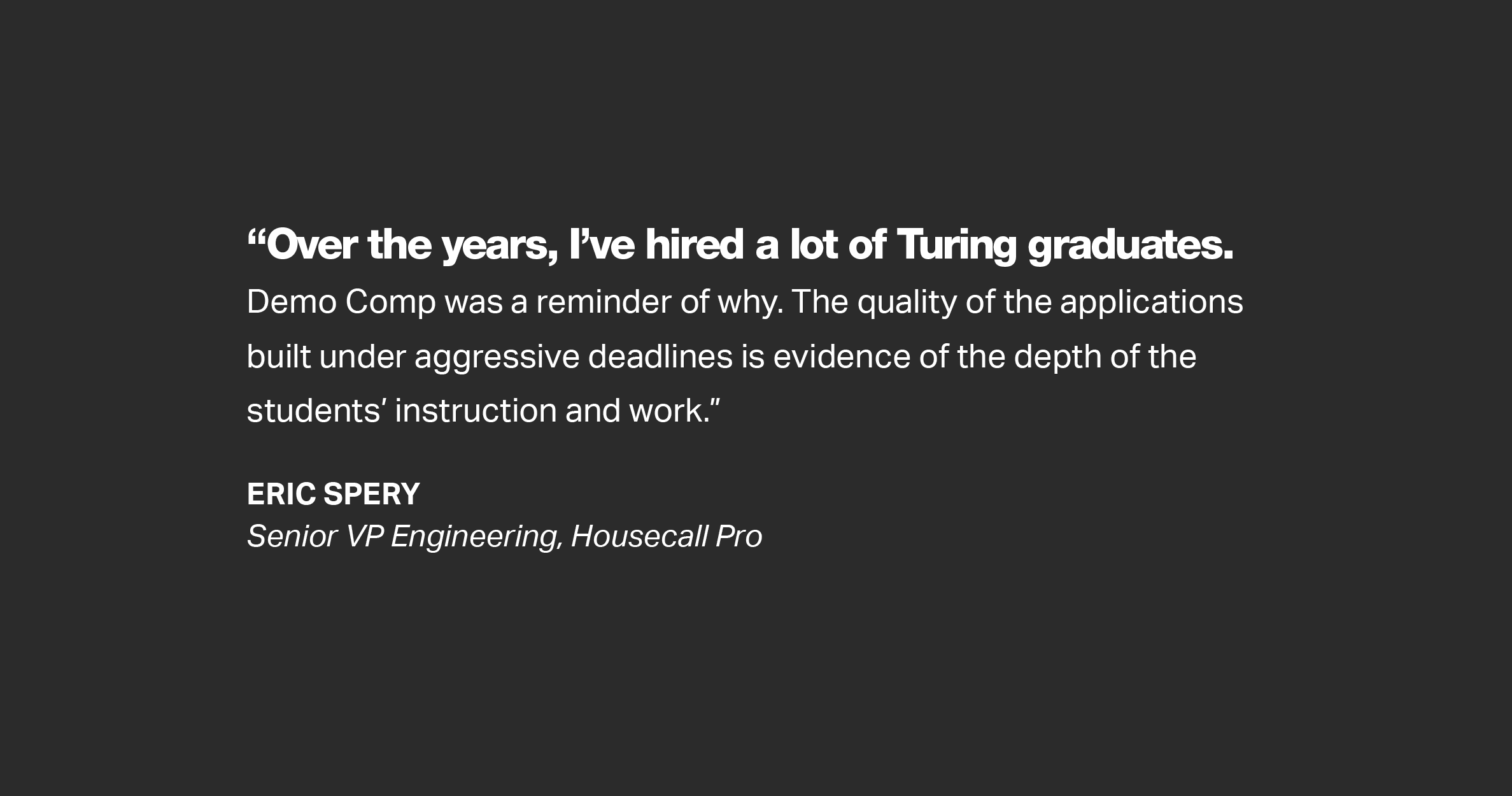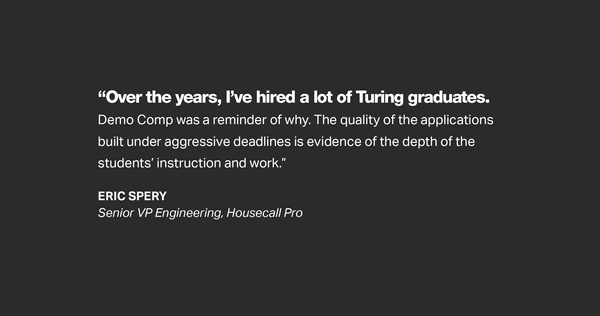 Two weeks. That's a blip. But on Turing time, a blip is enough to build an app. Our students are trained to work as a team and seriously accelerate the concept-to-construct of user-friendly software applications that serve real purposes and solve real problems.

Our judges agree. Senior VP of Engineering at Housecall Pro Eric Spery says, "Turing gives students 30-40% of what they need to be successful within the program. They have to learn and research the rest, often through team-based projects. This creates engineers who are resourceful, creative, autonomous and willing to do the work to figure out how to solve problems they don't know how to solve."

Take a look at the entries from our most recent demo comp to see our students' problem-solving skills in play.

Winner
Spot Me
Created by: Ezzedine Alwafai, Caroline Tan, Taylor Varoglu, Brian Fletcher, Scott Borecki, and Gunnar Runkle

Lack of accountability. It's almost always the No. 1 reason every well-intentioned workout routine fails. Enter Spot Me, an app designed to help users overcome the challenge of sticking to a consistent workout schedule. It connects users with other gym members so they can find their 'SwoleMate' and make fitness friends to stay motivated and on track.

Runner Up
Elegy
Created by: Ashley O'Brien, Taylor Galloway, Jermaine Braumuller, and Noah Zinter

Death is the master of us all. No one escapes it. But what if you could exercise some control over how you are remembered? Elegy does just that. Built with a tremendous amount of empathy, it allows users to create their own memorial page, curate a careful list of loved ones to receive it at a later date, and designate an executor to manage it in the event of their passing.

Honorable Mentions
Breezy
Created by: Eric Li, Hayley Dixon, and William Phelps

Air quality is having a drastic impact on our quality of life—from fires ravaging Western states and beyond. With Breezy, you can compare your current city (or city of choice) to hundreds of other cities in the U.S. and easily identify differences in air quality, temperature, and distance. Perfect for planning where to go for a weekend hike, what city to visit next, or what precautions to take on an upcoming business trip, this app helps users—especially those with underlying health conditions—breathe easier.
Seen
Created by: Bobby Vasquez, Shayan Golafshani, Regina Casias, and Zach Trokey

If there's one thing our society is obsessed with, it's creating a following. Seen is a social media app that redefines what it means to gain a following. What if you had ten followers today, then a million the next? Two tiers of followers—fixed and flux—redistribute every 24 hours. Interesting concept, eh? We certainly think so.
Want to hire developers who are ready to contribute to your team and solve complex problems?

Meet the aspiring developers behind these apps and more of our people on Terminal.