Q4 2022 Jobs and Hiring Report
Don't let the headlines about Silicon Valley layoffs spook you—the job market for programming careers was still strong heading into Q1 2023.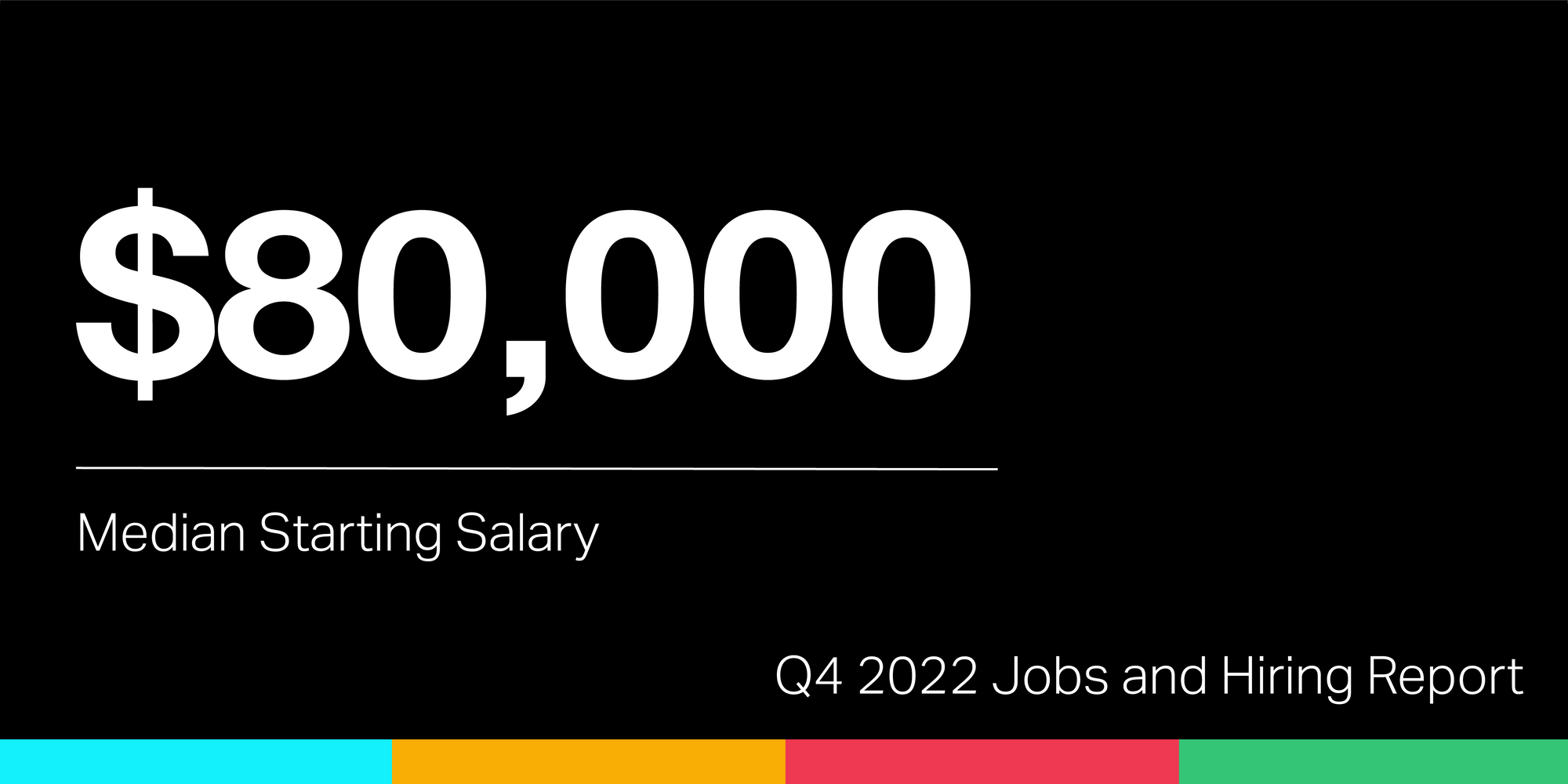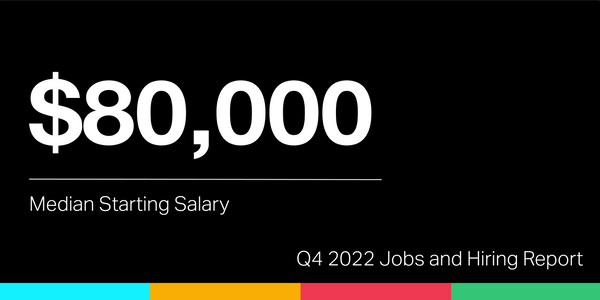 2022 was a year full of economic anxiety, full of headlines about inflation, the supply chain and the potential for recession. But despite news stories that could spook risk-averse job seekers and career changers, there is plenty of good reason for optimism if you know where to look. For example, there's Turing's Q4 2022 Jobs Report.

While it's true that U.S. employers broadly announced a 13% increase in job cuts last year, Bloomberg notes that was the smallest such fluctuation in the job market since 1993. At the close of Q4 2022, one thing was certain—programmers are still much in demand and commanding salaries that help take the sting out of higher prices at the grocery store.

The average salary for Q4 job searchers who graduated from the Turing School, for example, was $84,377—slightly more than new hires garnered the year before. Even at the lowest end of that salary range, new hires were offered about $15,000 more than in Q4 2021.

Q4 2022 by the Numbers:
45 students graduated Turing during the quarter
29 alumni accepted job offers during Q4
The median salary for new hires was $80,000
The median time to hire was 66 days
60% of the jobs offered to Turing alumni were remote
Alumni rated their job search satisfaction at 4.5 out of 5

So while the tech sector is not immune from general economic conditions, it's still a better-protected field than many other industries. For example, the ManpowerGroup Employment Outlook Survey for Q1 2023 noted that "Information Technology (IT) remains the strongest sector (+35%), despite headlines about tech hiring and layoffs."

Indeed, the median salary of new hires from Turing in Q4 was $80,000, double what the typical American makes according to Bureau of Labor Statistics (BLS) data. The federal agency also found that "nonfarm payroll employment increased by 223,000 in December, and the unemployment rate edged down to 3.5 percent."

Another reason for optimism—while Q4 is often slower due to holiday time out of office and thinner year-end budgets, January and February typically mark the annual peak in companies' recruitment cycles. These same reports show that sectors like finance, real estate, hospitality and healthcare, which increasingly need programmers, have also continued to see gains throughout 2022 and into 2023.

Future-Proof Your Career with Computer Programing Skills

Even if high-profile tech giants like Microsoft, Amazon, Twitter and Meta have trimmed their workforce in 2022, there are still plenty of other top-tier businesses that need front-end and back-end developers. Manpower's survey also found that organizations with 250-plus employees anticipated a boost in Q1 hiring at rates twice that of small businesses. And Business Insider reports that despite layoffs from tech's Big Four, health tech, defense and banking lead the charge on hiring for "tech-focused roles" with a 25% increase.

While career changers may reasonably feel leery about leaving an established professional track after watching the doom-and-gloom 2022 evening news, now is the time to future-proof your resume. By developing marketable coding skills that garner a higher salary and more long-term security, job candidates can give themselves extra cushion against other headline-worthy issues like increasing egg prices and an unpredictable housing market.

That's especially true when you consider the hidden benefits of flexible developer careers, like the ability to secure a work-from-home job that pays well. That can help reduce expenses like childcare, transportation and other monthly budget costs, helping those larger salaries go even further. As some companies have tried to encourage employees to return to the office, many remote workers have cited the added expenses that stem from in-person work as a compelling reason to keep their work-from-home perks.
Curious if coding could be the secret to a 2023 career glow-up? Our Try Coding events offer a hands-on way to experience Turing's unique approach to programming instruction. And with the newly expanded Turing scholarship offerings, up-skilling is more affordable than ever—contact us anytime to talk with an admissions counselor.