Q2 2023 Jobs and Hiring Report
Concerns about tech hiring and the impact of AI on code jobs haven't dented the success or optimism of Q2 Turing graduates.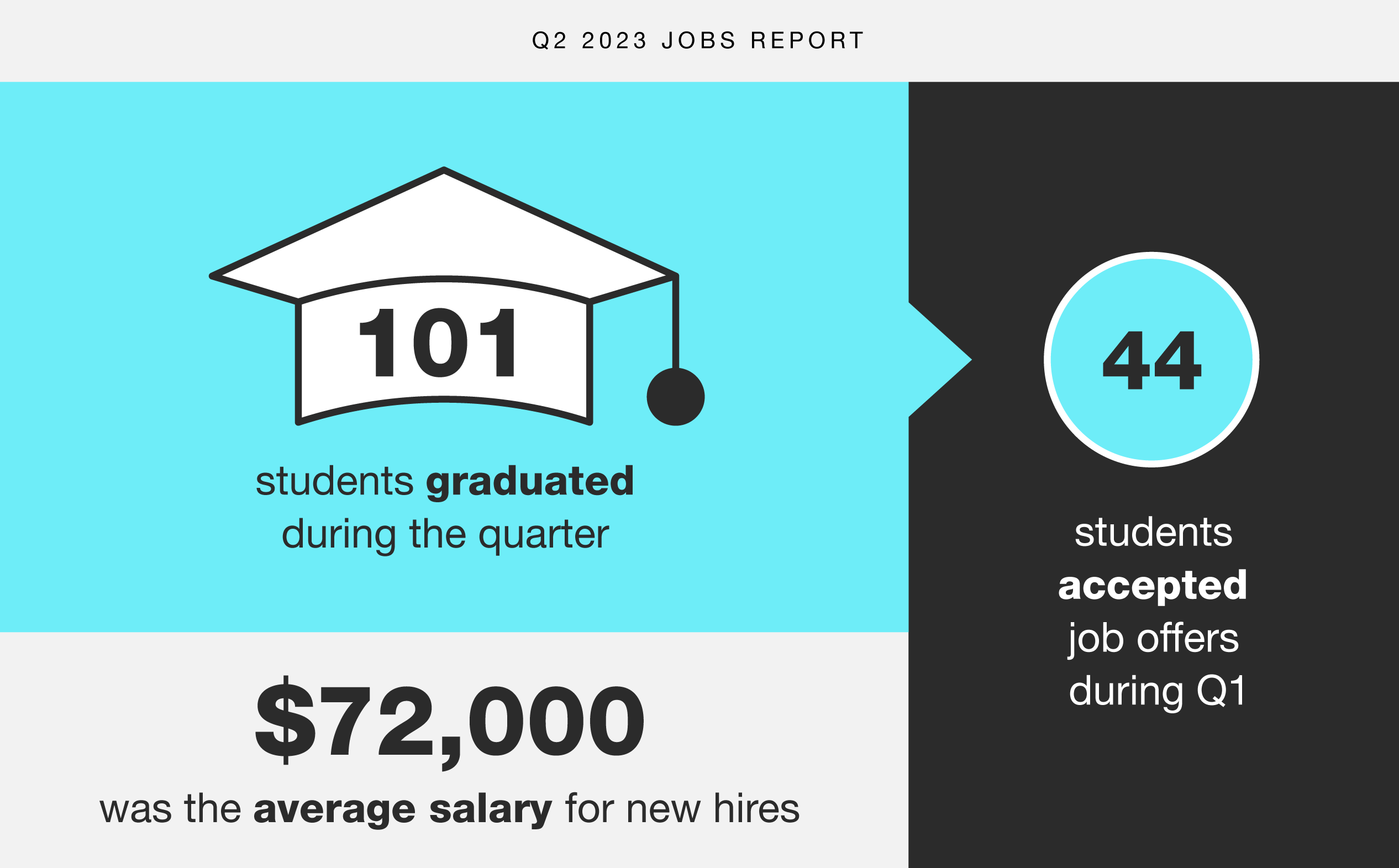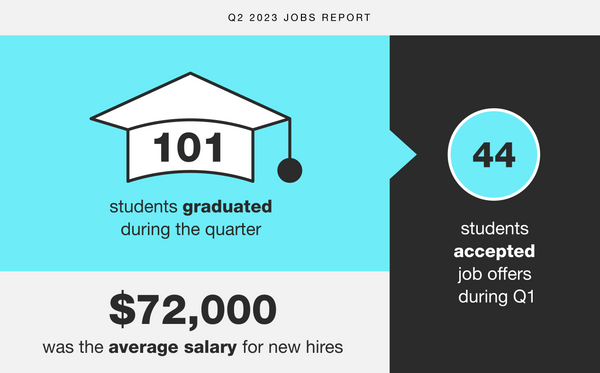 If you spent Q2 stressing about the state of the tech job market and dire headlines about the impact AI will have on career sectors from coding to copywriting, we get it. Doomscrolling is a tough habit to break—especially when it feels like the future is at stake.
Now that our Q2 outcomes numbers are in, however, it's clear that there's still plenty of good news from the latest Turing cohorts to graduate. Despite the uncertainty many are feeling about the tech sector right now, the actual numbers give up-and-coming alumni real reason for optimism.
Q2 2023 by the Numbers:
101 students graduated Turing during the quarter
44 alumni accepted job offers during Q2
The average salary for new hires was $72,000
The median time to hire was 137 days
38% of the job seekers negotiated with recruiters
Alumni rated their job search satisfaction at 4.13 out of 5
You can read our full Q2 Jobs and Hiring Report here.
The biggest differences between these numbers and those for students who graduated during Q1? Unfortunately, Turing alumni looking for a job in Q2 took about twice as long as it did for our Q1 cohort. However, the spread of back end and front end hires was very even—so much for the myth that back end developers are hired more quickly. Ultimately, the number of graduates who did land a position in Q2 was only 16% lower than those who started their job search in the first three months of the year.
There are a few reasons for these dips that have nothing to do with recruiters at the big FAANG companies. For one, Q1 is the strongest time of year for hiring, while summer is one of the slowest. It's tough being patient, but Q3 is right around the corner. That's when companies typically set the budgets they need to open up fresh positions at the end of the current year and the beginning of the next year.
High-profile tech companies like Facebook (now Meta), Amazon, Apple, Netflix and Google (technically Alphabet) grab the lion's share of tech headlines. But below the proverbial fold, you'll find that plenty of small to medium size enterprises (SMEs) in tech and tech-adjacent industries are hiring.
According to a survey by ManpowerGroup, the most optimistic hiring outlooks going into Q3 are for a variety of industries that have recently amped up their front end and back end hiring. These include the IT sector, energy & utilities, financials & real estate, transport, logistics & automotive, and health care & life science.
It may feel daunting to compete for jobs with the former FAANG workers who were laid off this year, but that anxiety doesn't offer a particularly accurate picture of what's really happening in the job market, either. Recruiters are still eager to fill entry-level positions with candidates who don't have the pay, benefit and responsibility expectations of more experienced workers—or noncompete clauses in their resumes.
Turing's New Graduate Services

Another reason to feel confident? Turing has made significant changes to New Graduate Services and job support programming in the past few months to help our alumni respond strategically to changes in the developer job market.
"Working in career development and career support for my entire career, job markets change but the job search process doesn't. Even when the job markets change, there are still opportunities out there. Sometimes they look a little different and job search strategy looks a little different, but people still find opportunities," said Ryan Frank, Turing's Career Specialist.
"Right now, in terms of career support, we are trying to address the changes in the types of job search strategies that people may need to adapt to," he added. "We're not in a candidate-driven market anymore. We're in an employer-driven market, which means they are looking for candidates who know who they are and what they want."
To that end, Turing has a variety of topical events to help students hone in on potential resume and interview highlights, as well as current market trends. Recent subject matter has included "Under the Hood: How Code Runs," a conversation about how to position yourself as an experienced developer with a strong understanding of how code teams function. Other topical events have addressed AI as a potential job search tool, as well as how to seek out and apply for dev-adjacent roles so candidates can get their foot in the door with companies' developer teams.
Turing also has a robust mentorship program, as well as strong relationships with a number of companies that have hired Turing alumni in the past and have continued to provide job search support like mock interviews and resume and technical advice. The New Graduate Services program can also connect recent graduates with upskilling opportunities, like open source and volunteer projects. Continuing to polish your code skills while job searching is a great way to differentiate yourself and to show your commitment to lifelong learning while you land that first dev job.
Our Career Specialist Ryan Frank is always eager to speak with the Turing community and help you meet your goals—so definitely reach out to learn which of the New Graduate Services offerings are the best fit for you.
Is AI Serious Competition for Entry-Level Code Jobs?

Speaking of using AI in the job search process, you might have been asking yourself whether AI is taking over dev jobs more than it's helping coders apply for open positions. That's another headline that's become a bit overblown. Warnings about the ability of artificial intelligence to give entry-level coders a run for their money definitely makes for clicky, sticky stories.
The truth is that AI has a long way to go before it can effectively replace even newly minted code professionals. There's a level of creative problem-solving, instinct and teamwork required for code jobs that no artificial intelligence can currently match. This is why so much of the Turing curriculum and New Graduate Services offerings are dedicated to cultivating these "soft skills."
Right now, the rise of AI doesn't mean competing with robots for jobs. But it's true that we might reach that reality in the future. This means that now is the time to learn as much as you can about AI and how it can augment the skills you're learning in code school. AI can be a great resource for people in all sorts of fields and professions. And right now, the thing it's best at is helping people work a little more quickly and strategically.
How AI Is Boosting Tech Hiring

Learning how to use these tools to enhance—not replace—your work is quickly becoming a valuable, competitive skill. After all, artificial intelligence might be able to write some basic lines of code. But what artificial intelligence can't do is give itself instructions or the tools it needs to succeed at more complex tasks. That's where humans still come in.
In fact, some major companies are hiring "prompt engineers" to help improve their AIR systems. Others are upskilling existing engineering staff to be certified in AI tech like Microsoft Azure Open AI. And 58% of employers surveyed by ManpowerGroup said that they believe artificial intelligence will be job creators, not job destroyers.
Indeed, an Upwork survey published in June found that "contrary to some headlines, when asked about staffing plans due to generative AI, 49% of business leaders said they plan to hire more full-time employees and more freelancers.
Not only that, the companies most likely to be hiring for AI-augmented roles are those with attractive remote-first attendance policies. The same remote-first attendance policies that draw many to jobs in tech and coding in the first place, especially traditionally marginalized demographics like career-changing moms, LGBTQIA+ coders and BIPOC web devs.
Approximately 68% of full-time remote companies said they are actively embracing generative AI. And 62% of midsized enterprises are leveraging AI to enhance their output, while 56% of small companies under 500 employees say the same. Those SMEs are exactly the segment of tech companies that were strongest on hiring in Q1.
​​Not only do humans offer coding chops that go beyond boilerplate, they also offer soft skills that no computer can match. That same ManpowerGroup survey ahead of Q3 2023 found that employers most want candidates who exhibit reliability, self-discipline, resilience, adaptability, reasoning, problem-solving, creativity, originality, collaboration and teamwork.
With the breadth and depth of hard and soft skills taught at Turing, along with a little patience and the right outlook about recent evolutions in the tech industry, we're confident our quarterly outcomes will remain strong.

Getting ready for your own job search in the tech sector? Check out these additional tips and tricks from a Turing alum.