Q1 2023 Jobs and Hiring Report
Is the tech industry still in its work-from-home era? The latest job statistics from Turing's Q1 2023 cohort of graduates and the national job market say yes.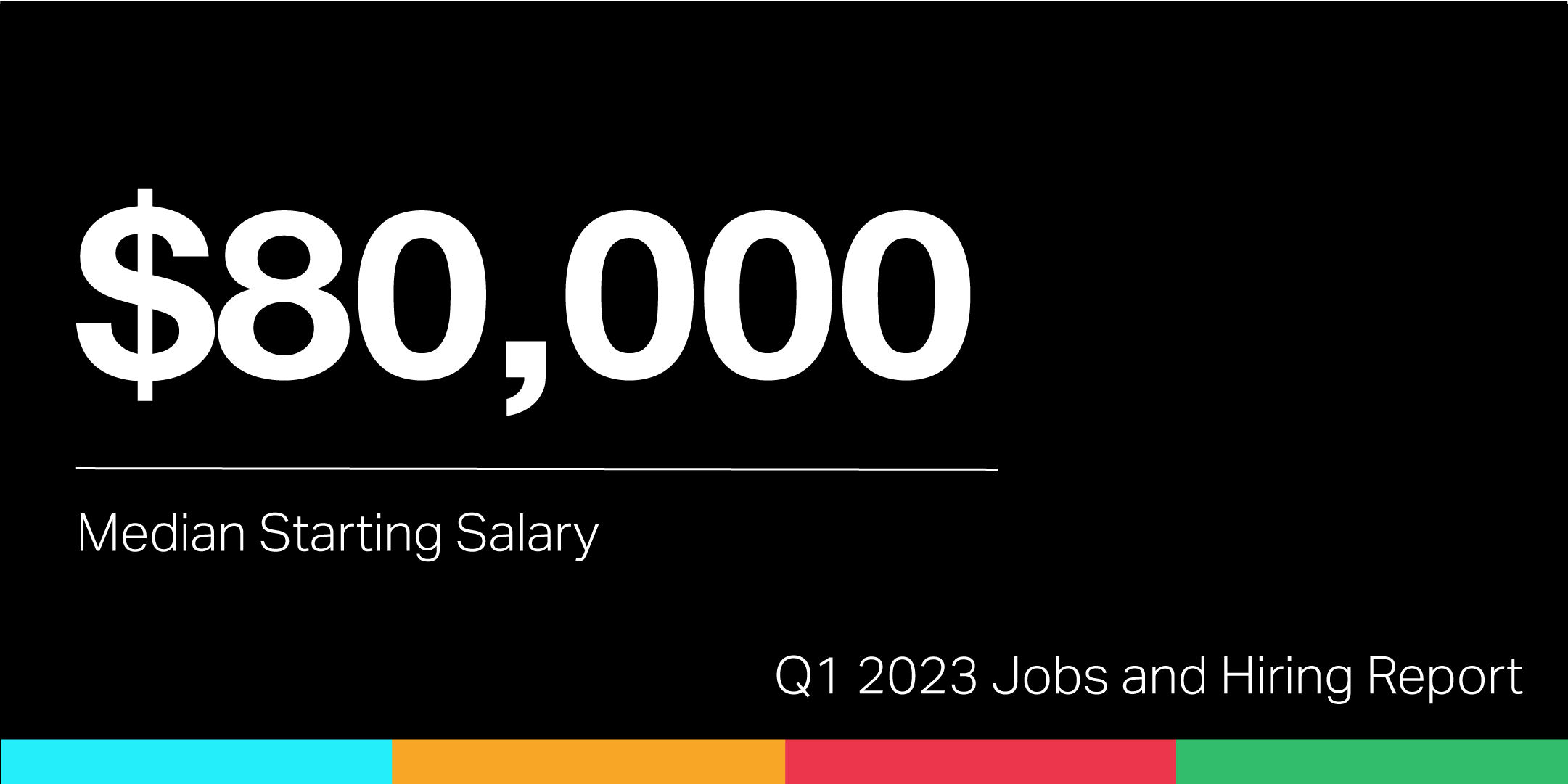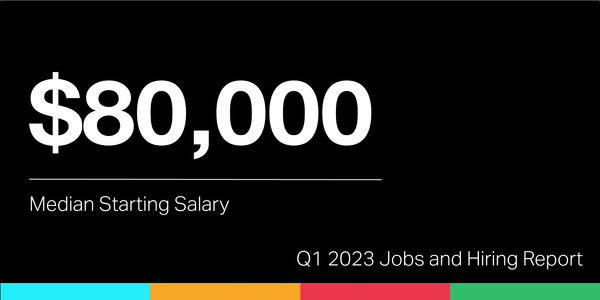 As Q1 of 2023 comes to a close, how are those New Year's resolutions looking? For Turing graduates who set a goal to secure their first tech job, those resolutions are looking strong. A significant portion of Turing's two Q1 graduating cohorts are already securing positions on the job market—and salaries double what the average American made the previous quarter, according to the Bureau of Labor Statistics. And the numbers for 2023 point to another interesting trend—is remote work really here to stay?
Q1 2023 by the Numbers:
103 students graduated Turing during the quarter
52 alumni accepted job offers during Q1
The average salary for new hires was $81,645
The median time to hire was 64 days
38 of the job seekers negotiated with recruiters
Alumni rated their job search satisfaction at 4.33 out of 5
Despite sometimes alarming headlines about the tech sector as 2022 progressed, the latest Bureau of Labor Statistics employment report showed that jobs in computer systems design and related services held steady between February of 2022 and 2023. The Bureau also found that total nonfarm payroll employment rose by 311,000 in February of 2023 alone, with notable gains in code-friendly sectors like hospitality and health care.
Salaries for new hires held steady from Q4 to Q1, too, with a median offer of $80,000. Considering that many of the students who join Turing were making 25% to 40% less before transitioning to software development, that's a robust entry point. In a time when recession anxiety remains top-of-mind for many Americans, it's also reassuring to see our graduates achieve greater financial stability. Most of our students' first jobs after Turing aren't at the big FAANG tech giants that make all the headlines but at small-to-medium-sized companies in tech-adjacent industries like hospitality and healthcare. Read our full Q1 Jobs and Hiring Report here.
Have U.S. Tech Companies Reversed the Work-From-Home Trend?
One interesting trend is that the two cohorts to graduate in Q1 2023 were offered fewer remote positions than graduates in the first and last quarters of 2022. While a significant portion of job offers allowed for remote work, 21% of roles were hybrid, 21% in-office, and 58% were fully remote, compared to 28% hybrid roles, 12% in-office roles and 60% remote roles just three months ago. Both of those sets of numbers show how much attitudes about remote work remain in flux after the COVID-19 pandemic kept so many professionals and students—including the Turing community—largely at home.
Compare that 58% of remote job offers today to one year ago, when 63% of positions offered to Turing alumni in Q1 2022 were remote. That shift aligns with the latest statistics on how prevalent work-from-home options remain as the country moves on from its pandemic response. The New York Times, for example, reports that an Ivy League analysis of over 50 million job postings found that 12.2% of those U.S. listings specifically mentioned remote work—four times the number that did prior to 2020.
But the latest Business Response Summary from the Bureau of Labor Statistics found that a whopping 72.5% of business was conducted primarily on-site in 2022—over 12% more year-over-year. Those numbers are for the whole job market, however, and the tech sector still stands out as particularly remote-friendly.
Is Tech Still a Work From Home Friendly Career Track? Yes
A study by the Partnership for New York City found that just 43% of workers at tech firms were reporting to the office in January of 2023, versus 59% of workers in the financial services industry. Indeed, that same Work From Home Map cited by The Times shows that tech-friendly cities like San Francisco and Boston had far higher numbers of job postings explicitly advertising the option to work from home—over twice the national average. And in Denver—home to Turing's HQ and campus—19% of total job listings offer remote-exclusive work.
That's the long answer to the question of whether or not computer programmers can still count on tech firms to let them code from home. The short answer is that yes, even as some industries and prominent businesses are trying to get workers to resume their commutes, Turing graduates are able to stick with their home offices to a degree that's well above average.
This is great news for anyone who decided to start a career in software development not only for the higher pay bracket but also for better work-life balance and location flexibility than can be found in sectors such as education, project management, finance, construction or even the medical field. If you're ready to explore a future in computer coding, this could be the perfect time to sign up for a Try Coding workshop, to explore Turing's scholarship offerings, and to submit your application to join a future cohort of front end and back end developers!